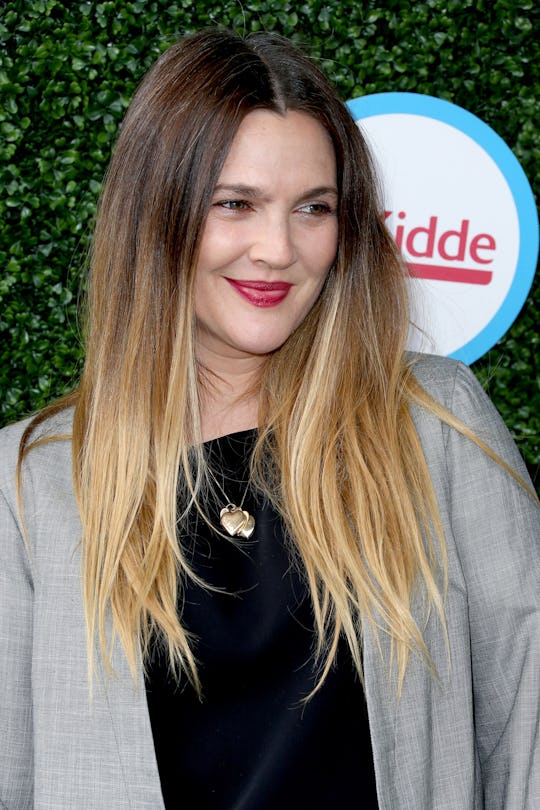 Frederick M. Brown/Getty Images Entertainment/Getty Images
Drew Barrymore Hangs Out With Turtles With Her Daughters, & It's Totally Adorable
One former child star, current movie star, author and cosmetic line designer had a pretty "wild" Labor Day weekend — and no, it didn't involve any Hollywood parties. Drew Barrymore posted some pics to her Instagram, including a selfie with one critter. In the snaps, Ever After, The Wedding Singer, and Never Been Kissed star Barrymore fed turtles with her daughters, Olive, 3, and Frankie, 2, and romps with some cute animals.
Barrymore, 41, is mom to the two toddlers with her ex-husband, Will Kopelman. In April, the couple announced they were splitting but the divorce wasn't finalized until August. "Our children are our universe, and we look forward to living the rest of our lives with them as the first priority," Barrymore and Kopelman said in a statement to People after the divorce, referring of course to Frankie and Olive.
When Barrymore was the age her daughters are now, she was already getting advertising work and made her film debut by age 5. Shortly after, she scored the role of Gertie in E.T., which catapulted her to fame and made her one of the most recognizable child actors of the 1980s.
Throughout her young life, she struggled with drug addiction and fell prey to the hard party culture of Hollywood, according to People. By the time she was 13 years old, she'd started drinking, had done cocaine and smoked marijuana, as she revealed to the public in her first memoir Little Girl Lost.
After attending rehab as a preteen, Barrymore made a comeback throughout her teens and young adulthood, and has since returned to screens, written several books and started her own line of cosmetics.
Even though we can't see daughter Olive's face in Barrymore's Instagram photo, she's probably the spitting image of her famous mother at that age. Barrymore often posts throwback pics from her days spent on set as a child, filming movies like E.T., which she starred in when she was just 6 years old.
A few weeks ago she posted a photo from behind-the-scenes of one of her first movies, Firestarter — the feature film of Stephen King's novel of the same name.
As it turns out, this past weekend's turtle trip with her girls wasn't the first — or at least, it wasn't Barrymore's first. A few months ago she posted another turtle selfie. It might not be the same turtle from her recent trip — but it could be: turtles can live for fifty years — so that #wiseturtle in her photo might actually be older than she is.