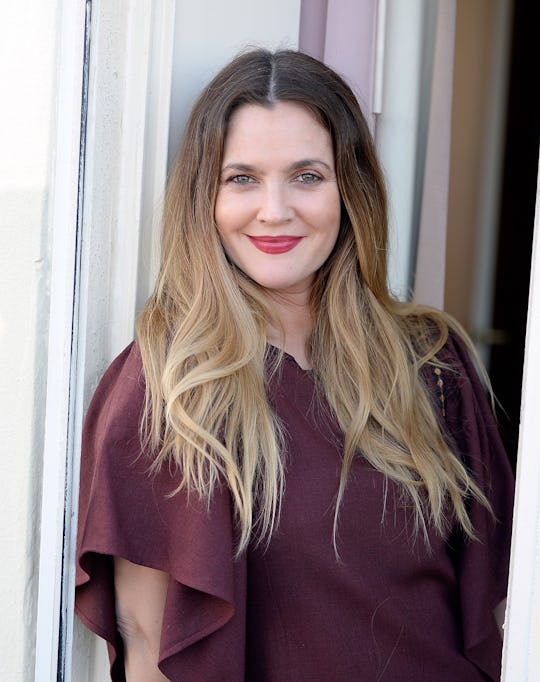 Angela Weiss/Getty Images Entertainment/Getty Images
Drew Barrymore Has A 'Frozen' Yoga Session With Her Daughter & Rocks Motherhood
Drew Barrymore had the cutest fitness session ever on Wednesday, and I think it's safe to say everyone in the world now has very important new fitness goals. Drew Barrymore did yoga with her daughter, 3-year-old Olive, in an adorable Instagram picture posted on Wednesday. Not only was Olive killing it in locust pose, but she was also dressed as Elsa from Frozen. If that's not the cutest mother-daughter moment ever, I don't know what is. (The photo is made even better by the background: another tot sits atop an unnamed yogi in locust pose, making this entire yoga session seem like a ball of fun.)
The picture came just a few days after Barrymore announced her divorce from her husband of four years, art adviser Will Kopelman. The couple, parents to Olive and 2-year-old Frankie, released a statement to Us Weekly that was honest and touching about their time together and their decision to split ways:
Sadly our family is separating legally, although we do not feel this takes away from us being a family. Divorce might make one feel like a failure, but eventually you start to find grace in the idea that life goes on. Our children are our universe, and we look forward to living the rest of our lives with them as the first priority.
It sounds like Barrymore has been approaching the change with plenty of grace — and a little help from her friends. Barrymore's Charlie's Angels costar (yes, let's throw it back, folks), Cameron Diaz, recently weighed in on the importance of friendship during hard times. According to People, when Diaz was recently asked on SiriusXM Radio about Barrymore's divorce, Diaz said she'd reached out to her friend of 16 years.
"Everybody pulls the wagons around, you know, our friends, whoever needs us at whatever point in time, even if it's like something that the public doesn't know about," Drew said. "As you get older, you start to lose people in your life, and when you lose people in your life, you have less of a purpose so it's really, really important to stay engaged."
Between Barrymore's collaboration with Carmel Wines, running her makeup line Flower Beauty for Walmart, and her recent work as a producer on How to Be Single, Freak Show, and Santa Clarita Diet, Barrymore definitely hasn't slowed down in regards to doing work she's passionate about.
With her varied work projects, supportive friends, and morning yoga sessions with her daughters, it seems like Drew Barrymore's figured out the secret sauce to a gorgeous life. I wanted to be Barrymore in 2000, when Charlie's Angels first came out, and now, 16 years later, nothing's really changed. If you can be a role model as a fictional spy and as a mother to an Elsa-costumed daughter many years later, I think you've made it in life.