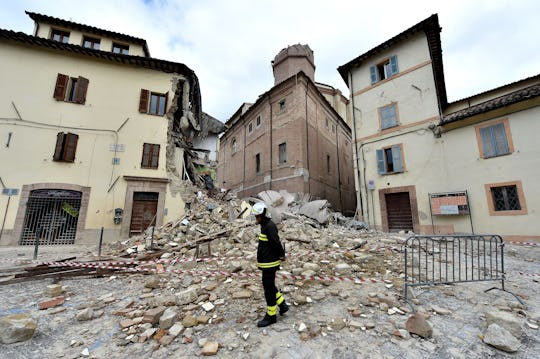 ALBERTO PIZZOLI/AFP/Getty Images
Earthquake In Italy Rattles Residents & May Be The Strongest In Decades
A natural disaster has hit Italy hard. For a country with so much history built into it, any type of destruction can utterly devastate the country's rich culture, which is notably filled with stories, artifacts, and architecture that existed long before our time. On Sunday morning, an earthquake in Italy rattled residents, and according to some news sources, it could be the strongest earthquake to hit the region in decades.
According to CNN, the 6.6 magnitude earthquake struck central Italy just northeast of Rome and east of Perugia, around 7:40 a.m. The massive quake caused historic buildings to turn to rubble and rightfully sent residents and tourists into a panic. Unfortunately, there have been at least 20 reported injuries so far; But luckily, according to the Associated Press, Italian Premier Matteo Rinzi said the earthquake has not caused any fatalities just yet.
It is hard to explain just how big this earthquake was and just how much destruction it really wrought. According to ABC News, 100,000 people are unable to get back into their homes and roads have been damaged because of the quake. To put this into perspective, in August, a 6.1 magnitude earthquake struck nearby Amatrice, some two and a half hours away, killing nearly 300 people — and the magnitude was still lower than Sunday's earthquake, making this one a lucky break, at least in human toll. According to Yahoo News, the last time an earthquake with a magnitude above 6.6 hit Italy was in 1980, when a 6.9 magnitude earthquake killed 2,735 people.
It wasn't just central Italy that felt the effects from the earthquake — according to CNN, the quake was felt as far as 56 miles away from the earthquake's epicenter. At least 13 million people felt a tremor from this earthquake and the aftershocks continued to shake people every 20 minutes or so afterwards.
This is not the first earthquake that Italians have felt this month — according to CNN, just last week two large sized earthquakes hit Italy on Wednesday and Thursday. Authorities reported that these earthquakes had a magnitude of 5.5 and 6.1 — smaller than Sunday's earthquake but still able to leave destruction in its wake. Those earthquakes earlier in the week "left thousands of people homeless" but because of this, many of them had evacuated to shelters and hotels outside of earthquake prone areas — and according to ABC News, this "may have helped save lives."
But now those people affected by the earthquakes last week might have to wait even longer to get back into their homes. According to The Guardian, there is extensive damage to historic structures, such as churches — some of which have been flattened by the quake.
It is such a relief to know that an earthquake this large has not yet taken any lives. However, Italian residents and tourists alike will be mourning the damage this earthquake has caused to their beloved country for weeks to come.