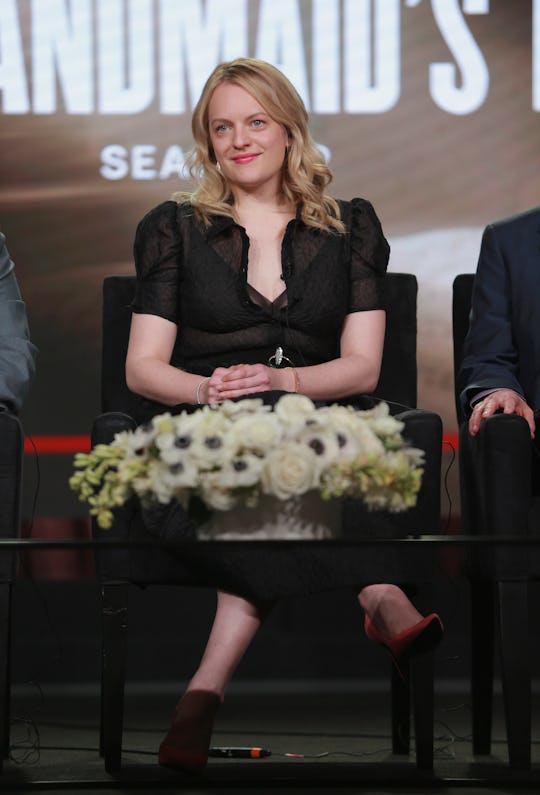 Rich Fury/Getty Images Entertainment/Getty Images
Twitter Thinks Elisabeth Moss Was Snubbed At The SAG Awards
Elisabeth Moss was nominated for Outstanding Performance by a Female Actor in a Drama Series at the 2018 Screen Actor's Guild Awards, and many expected her to win the category. However, Claire Foy ended up taking home the honor for her performance in The Crown. That left some viewers feeling like Elisabeth Moss was snubbed at the SAG Awards. Twitter in particular was definitely disappointed.
Moss had already won a few awards for her role as Offred/June, earning both an Emmy and a Golden Globe for her efforts. Moss was the favorite to win at the SAG awards, with Gold Derby predicting that both she and the series she stars in would end the night victorious. It's clear that banking on Moss was a safe bet, and I think most of us can agree that if she had won, it would have been well-deserved. The Handmaid's Tale took audiences by storm when it was released because of how much it resonated with the current political climate, and Moss' performance was nothing short of incredible.
However, it was a category with a lot of competition and there's no denying Foy also gave a stunning, layered performance as Queen Elizabeth II. With so many amazing actresses around, it's hard to say who earned it more — though Twitter seems to have been rooting for Moss.
Some Twitter users appeared to be taken aback, totally in shock that Moss wasn't the one walking off with a brand new decoration for her mantle. Before the ceremony aired, it seemed like a sure thing. After all the good press (not to mention the years killing it as Peggy Olson on Mad Men), Moss' success at the SAGs was a foregone conclusion. But even if fans thought she was robbed, at least they could rest assured that the equally excellent Foy was victorious. If you have to lose, at least lose to the best, right?
Despite the surprise that took over Twitter following the perceived snub, some found the silver lining in the situation. Moss would have plenty of opportunities to receive countless awards for her portrayal of Offred because the show (and her role in it) is ongoing. Season 2 will premiere in April 2018, and there's always the chance of many more seasons after that. The second season of The Crown was Foy's last opportunity because she will be exiting the show before Season 3, when the lead role will instead be played by Olivia Colman. It was Foy's second win at the SAGs, but Moss can return next year to try again.
Unfortunately, Foy wasn't there to accept the honor herself; the presenters did so on her behalf. One Twitter user, @AlabamaBromo, called attention to Foy's co-stars Matt Smith and Vanessa Kirby (who play Prince Philip and Princess Margaret respectively) in the audience. There was only a quick glimpse of the two, but they seemed just as surprised (or maybe amused) as many people at home were. Others thought the rest of the crowd reacted to the unexpected win as well.
Even with the reassurances about Moss' future chances, certain viewers believed that it was a mistake for her not to win. The Handmaid's Tale hit home with so many of the people watching that it just felt incomprehensible for that not to be reflected at the SAG Awards. Not only did Moss herself not win, but the show didn't succeed in the other category it appeared in, Outstanding Performance by an Ensemble in a Drama Series.
But don't worry too much about Moss. She may have missed out tonight, but she can comfort herself with her Emmy, Critics' Choice Award, and Golden Globe. That's not too shabby at all.
Check out Romper's new video series, Romper's Doula Diaries:
Watch full episodes of Romper's Doula Diaries on Facebook Watch.