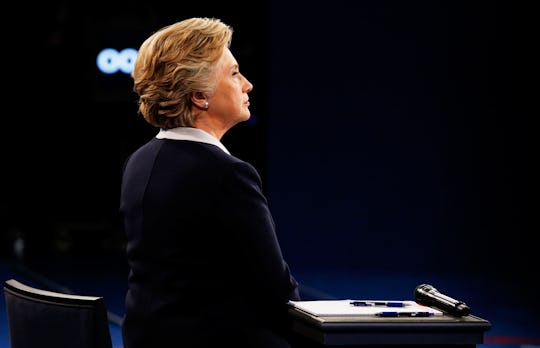 Pool/Getty Images News/Getty Images
Elizabeth Warren's Tweet About The Debate Sums Up Hillary's Greatest Strength
In the second presidential debate, Republican presidential nominee Donald Trump and Democratic presidential nominee Hillary Clinton squared off for round two of three debates ahead of November 8. Though the 90-minute town hall-style debate was teeming with noteworthy moments, there was one comment in particular that illustrates all we need to know about the candidates vying for the presidency of the United States. Elizabeth Warren's tweet about the debate sums up Hillary Clinton's greatest strength, and proves exactly why she's the one to lead our country.
At the end of the debate, a question from the audience asked Trump and Clinton to explain one trait about the other that they respect. Clinton, going first, took the high road and noted that she respects the devotion that Trump's kids have for their father. In response, Trump told the crowd and viewers at home that one thing he respected about Clinton was that she's a "fighter." And perhaps for the first time ever, Warren (and the rest of America supporting Clinton) wholeheartedly agreed. Trump couched his comment in his ability to "tell it like it is," but Warren didn't need to cushion her delivery. In fact, she was just telling voters what they already know:
Warren's comments speak to the very heart of Clinton's character, and they illuminate the type of leader she'll be. Though many of us recognized her fire during the 2008 election cycle, her fight is back and flames higher than ever in 2016. Clinton has said time and time again that Trump is a candidate who can be baited by a 140-character tweet. And if we're going to put anyone's poise under fire, we should absolutely be wary of a man who's never held political office before. Are Clinton's politics perfect? Of course not, but it's about time we let go of the desire to find "perfection" in a human person. As a voter, I never thought that Hillary Clinton would embody or even speak to everything that I hold dear, but when it comes to what I expect from her, it's the ability to keep fighting for the people and the places se represents.
Donald Trump has said a very many things about his opponent during this election cycle, and no doubt he'll continue to say things as we head full force toward November 8. But what Warren and so many other know so well is that when it comes time to elect a leader who speaks to the values of the American people and truly, truly believes in those values, it's Hillary Clinton we're hoping for.