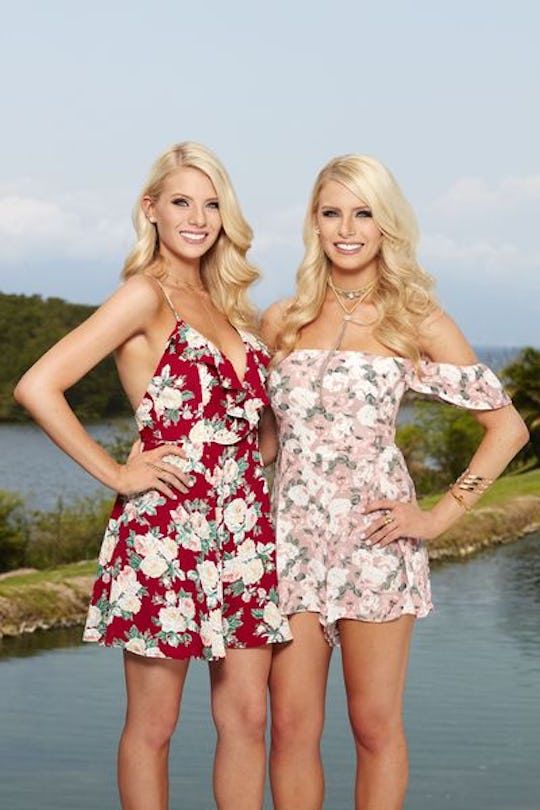 Craig Sjodin/ABC
Emily & Haley From 'The Bachelor' May Get A Spin-Off, & Here's What It Could Be About
The Bachelor has seen more than a few spinoffs and specials: there is the boozy beach fun of Bachelor in Paradise, the post-fairytale follow-through for Ben & Lauren: Happily Ever After?, and even The Bachelorette itself is technically a spinoff. Sometimes the people who find themselves looking for love on TV are too entertaining to say goodbye to – or at least the network is hoping that's the case. Now it looks like Emily and Haley from The Bachelor may get a spin-off, and if they do, there are some fun possibilities for what it could be about.
As enjoyable as the Doublemint twins could sometimes be, particularly when it came to low stakes twin shenanigans on Bachelor in Paradise (performing a mid-date switcheroo really walks that fine line between amusing and hella creepy) and the occasional wide-eyed one-liner, one wonders what they could possibly do on a spinoff of their own. According to Us Weekly, both women are already in relationships, so it wouldn't involve them taking another stab at love. As for career adventures, their Instagram accounts have a link for "professional twin bookings," which is up there when it comes to oddball Bachelor contestant jobs. I suppose an explanation of that could fill at least a little time on a television show, but let's take a look at some other options.
Undercover Twin
Haley and Emily have already proven themselves adept at infiltration and impersonation, so why not an entire show devoted to wacky twin-switching hijinks? Sweet Valley High made that kind of thing work for decades, so why wouldn't it work for one little reality show?
The Adventures of Emily & Haley
When it doubt, Haley and Emily could always take a page out of the Mary-Kate and Ashley playbook; luckily looking through their filmography provides a lot of material. Perhaps they could take inspiration from the classic series The Adventures of Mary-Kate and Ashley and solve mysteries. If Mary-Kate and Ashley could solve any crime by dinnertime, surely Emily and Haley could solve at least a few by lunch.
Twins Vs. Wild
Haley and Emily already have some experience with unusual animals thanks to all the creatures who made memorable guest star appearances on Bachelor in Paradise, so how about turning that into a series all its own? The twins can traverse tough terrain and educate the masses about lizards and bald eagles all at the same time!
Chopped: Twins Edition
Social media makes it seem like both women enjoy a finely crafted recipe, sponsored or otherwise, so how about this: at the start of every episode, each twin is handed a box of mystery ingredients and has to whip something up. They only win if they use their twin mind-meld powers to psychically create the exact same meal.
Top Model Times Two
America's Next Top Model has had its share of twins throughout the years, so why not a modeling show devoted entirely to #twinning? Both women do have some modeling experience. Emily and Haley could host while teams of twins compete to be the Next Top Twin Models.
However, nothing is definite yet. Emily and Haley landing their own Freeform series just like their Bachelor co-stars is still just a dream at this point.