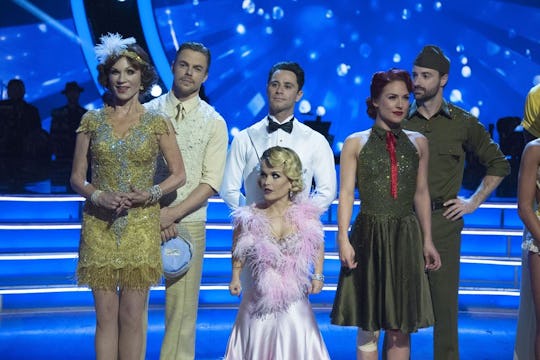 Eric McCandless/ABC
Eras Night On 'DWTS' Team Past Performed A Gorgeous Waltz To The 'Outlander' Theme
"Eras Night" on Dancing With the Stars finished with the much anticipated "team dances." Led by James Hinchcliffe and Sharna Burgess, Team Past on DWTS performed a Viennese waltz to the Outlander theme song. Which, as I just learned, is actually a 300-year-old Scottish song. The judges loved the beautiful number, and the team got the highest score of the night.
As Carrie Ann Inaba said, team dances are often super energetic and forceful, whereas this waltz was actually quite fluid and more pretty than anything else. She also called it her favorite dance of the night. (Same.) The elaborate 18th century crimson colored costumes paired with the simple lighting, and of course the ancient song that has become incredibly familiar to me over the past few television seasons, made it truly enjoyable to watch. As all the judges said, it was perfectly synchronized and beautifully performed. In fact, Carrie Ann said that nobody stood out. This was actually a good thing, as it went perfectly with the theme of the dance. Quite honestly, the routine reminded me of one of the troupe dances that usually open the show. It was that polished, and that lovely to watch. Even dancers that I thought of as being on the weaker side, like Maureen McCormick and Ryan Lochte, performed extremely well.
The team dance was important this round because it gave contestants another opportunity to gain a few extra points and hopefully save them from elimination. Carrie Ann called the dance "perfection!" and awarded the team a 10. Len Goodman and Julianne Hough gave it a 9, while Bruno Tolioni also gave the team an enthusiastic 10. (Sometimes I wonder about the scoring system, honestly).
These extra points were perhaps helpful to Ryan, who I can't imagine is much longer for this competition. But unfortunately, they were not enough to keep Maureen safe. She and her partner, Artem, were eliminated at the end of the show, despite the beautiful performance in the team dance, and a really solid effort in their first.
Now I'm going to go spend the next week trying to get that song out of my head.