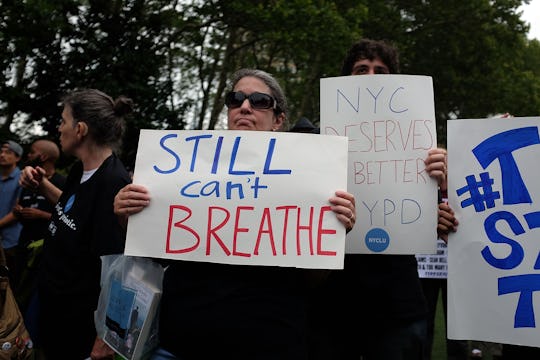 Spencer Platt/Getty Images News/Getty Images
Eric Garner's Case Just Got A New Investigative Team, & Here's What That Means
The New York-based federal prosecutors and FBI agents who comprised the team investigating Eric Garner's death has been replaced by the Justice Department, according a report by The New York Times. After a state grand jury declined to bring charges in December 2014, federal officials announced that they would investigate whether Officer Daniel Pantaleo violated Garner's civil rights by allegedly putting him in a choke hold during his July 2014 arrest. The case has now been stalled for nearly two years, reportedly due to disagreements between officials in New York and Washington on whether charges should be brought.
Garner was approached by Pantaleo and Officer Justin Damico on a Staten Island street corner under the suspicion that he was selling untaxed loose cigarettes, according to the Times. Multiple videos captured by bystanders show Pantaleo restraining Garner using what appears to be a choke hold, which is banned by the New York Police Department. Compression of the neck and chest was determined to be the cause of Garner's death, which was ruled a homicide. Pantaleo was stripped of his badge and gun and placed on desk duty, and the city settled with the Garner family out of court for $5.9 million. Pantaleo testified that he did not intend to cause Garner any harm.
Pantaleo's attorney, Stuart London, provided Romper with the following statement: "Officer Panteleo has consistently maintained that he never violated anyone's Federally protected rights. This was always a simple street encounter where officer Panteleo utilized his NYPD training to subdue an individual. The timing of this change in direction by Justice is interesting. If it is true that the Justice Department is rejecting the recommendations of seasoned FBI agents and Assistant United States attorneys, this is a gross miscarriage of justice. In our system of justice, politics should never take the place of the rule of law."
After hearing Garner's now-infamous last words, "I can't breathe," Pantaleo "attempted to get off as quick as he could," London told the Times, although the videos suggest otherwise. After Garner lost consciousness, he was left on the sidewalk for several minutes before paramedics arrived. Neither the police nor the paramedics attempted to aid Garner. He died on the way to the hospital, according to the New York Post, and the paramedics were suspended without pay pending an investigation by the New York City Fire Department. The New York Daily News reported that all four were eventually cleared for duty and are now back at work.
Federal officials told the Times that the New York FBI agents, who opposed bringing charges, have now been replaced with agents outside of the area, and federal prosecutors from Brooklyn are also no longer assigned to the case. Currently, the prosecutors are based in Washington; it's unknown if additional prosecutors will be brought on to the case at a later time. The removal of agents and prosecutors who disapproved of bringing charges could now clear the way for a federal grand jury, more than two years after Garner's death.