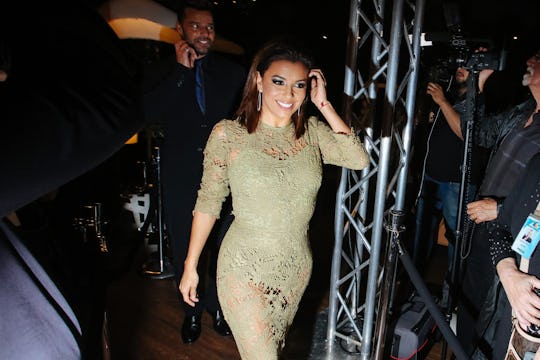 Eva Longoria Is Engaged, & Yes, We Have A Photo Of The Insanely Beautiful Ring — PHOTO
Well, it's official: Eva Longoria is off the market (again)! After dating Jose Antonio Baston — President of Telvisa and full-blown media mogul — for 2 years, Eva Longoria is engaged. Longoria has been married twice before, the first to soap opera star Tyler Christopher and the second to NBA superstar Tony Parker, but something tells us (no, not that ring, but while we're on the topic: damn) that this one will stick. Baston popped the question as the two spent the weekend in Dubai, doing Dubai-like things, like riding camels in the desert and, apparently, getting engaged.
While Jose is the president of Latin America's largest media brand and dominates the entertainment industry, Eva is no slump herself. She was an instant hit on the show Desperate Housewives, launched her own clothing label, and is currently staring in a new NBC comedy Telenovela. She pulled in a reported $375,000 per episode when she worked on Wisteria Lane and has a net worth of $35 Million.
Can you say "celebrity power couple"?
Ummmm so this happened....#Engaged #Dubai #Happiness
Whether it's your first engagement or your third, congratulations are always in order. So, to the happy couple, we say cheers!
Images: Rebecca Smeyne/Stringer; Eva Longoria/Instagram