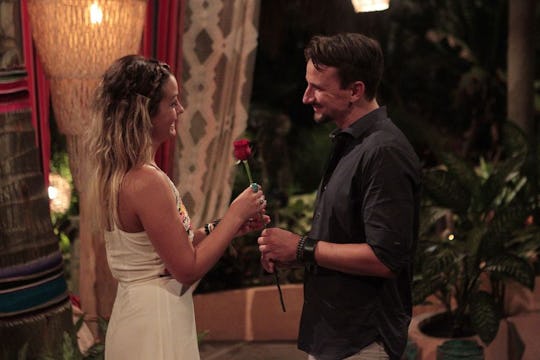 Rick Rowell/ABC
Evan Proposes To Carly On 'Bachelor In Paradise', & It Was Absolutely Lovely
The love story between Carly and Evan was one of the most unexpected (but heartwarming) surprises of Bachelor in Paradise Season 3. They started off as just friends, with Evan wanting more and Carly being... not as into it (to put gently). Eventually, though, Carly realized that Evan was exactly the kind of guy she wanted, and they wound up in the best and most solid place out of any of the remaining couples during the season finale. Carly and Evan got engaged on Bachelor in Paradise, and it was a seriously beautiful moment.
Despite having a rocky road in their romance, Evan and Carly wound up being the most assured of their love heading into the finale. For the past few weeks, their relationship has only improved and grown stronger. During the last episode of the season, the two quirky lovebirds woke up after their final date and fantasy suite night completely happy and totally in love – unlike each of the other couples, where at least one of the two partners had doubts. It was no surprise that Evan's proposal and the couple's final rose ceremony was the first up and that the two rode off into the sunset together, an engaged couple, within the first half of the finale.
In what was an unexpectedly tear-jerking and heartfelt scene, Carly told Evan that she would die for him, and Evan asked Carly if she would "freakin' marry [him]" in what is being celebrated across Twitter as one of the best ever Bachelor Nation proposals.
Evan has been into Carly all season, so it was no surprise to hear him tell her how much he loves her and how badly he wants to start their lives together right away. But Carly's reaction to Evan's proposal was so incredibly sweet. They both teared up during the proposal, and in her confessional Carly explained why she loves Evan – no matter what she does or what she looks like, Evan looks at her like she's the most beautiful woman and makes her feel great. And honestly, who can ask for anything more?