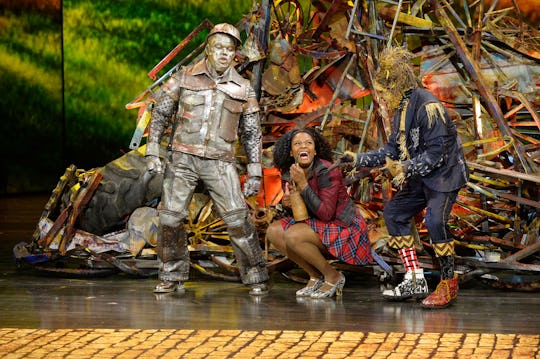 Everything 'The Wiz Live!' Costumes Resemble, Other Than The Actual Characters
The acting, the singing, the dancing. There were so many amazing aspects of The Wiz Live! on NBC. But perhaps the most jaw-dropping part of the performance were the costumes. Oh My God the costumes! Between the bright colors, bold patterns, and abundance of glitter, it was hard to keep your eyes of the ensembles. Of course, some outfits caught our attention for other reasons. Mainly, that some of The Wiz Live! costumes resembled other things.
Now, these resemblances are far from a #costumefail. Costume designer Paul Tazewell went above and beyond to bring the glitz and glamour of The Emerald City to NBC. Rather, the resemblances are the result if the Internet's imagination running wild. One of the most notable costume comparisons pointed out that the Scarecrow's terrifying mask looked just like a fresh-off-the-bone face mask. (But if you look below the mask you'll see that Elijah Kelley is anything but scary.)
From the tornado dancers' Lady Gaga influence to the Tin Man's street performer similarities, here are a just a few things people thought The Wiz Live! costumes resembled. You know, aside from the characters.