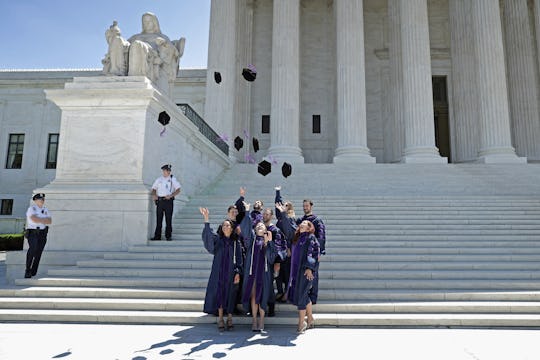 Chip Somodevilla/Getty Images News/Getty Images
Everything You Need to Know About Georgetown's Policy On Admissions For Slave Descendants
Many historical universities have ties to slavery. But for the first time, a university is giving preference to students who apply that are descendants of slaves. Here is everything you need to know about Georgetown's policy on admissions for slave descendants.
Georgetown University has dedicated a team to research the institution's history with slavery, which includes selling slaves to fund the campus, and the use of slave labor to build parts of the campus. The university plans to offer a public apology for its ties to slavery, but it's also taking a step further to reach out to the descendants of those who were Georgetown slaves.
"We will give descendants the same consideration we give members of the Georgetown community in the admissions process," John J. DeGioia, Georgetown University's president, said in a statement on Thursday. What this means is that descendants will receive an advantage in admissions, much like the children of alumni. The university has an acceptance rate of 17 percent, making admission extremely competitive.
However, so far the plan to reach out to the descendants of the slaves who helped build Georgetown does not include a scholarship specifically for them. A report on recommendations on how to recognize Georgetown's history with slavery includes the recommendation to explore financial aid options for descendants, but it remains to be seen whether the university will establish funding for them.
Other parts of the plan include renaming two buildings after Anne Marie Becraft, a free African-American woman who established a school for black girls in Georgetown in 1827, and Isaac, the first slave named in the documents of the university's 1838 sale of slaves.
The report of recommendations also suggests the university establish genealogical research to help descendants learn about their history. Although descendants now have preference in admissions, they need to be aware this preference exists — and that they are descendants. Professor Craig Wilder, a history professor at the Massachusetts Institute of Technology, told The New York Times that the importance of descendants receiving preference in admissions relies on how actively Georgetown invested in identifying descendants, and "actively recruiting" them to the university. DeGioia so far has promised "regular meetings" with descendants in his statement today.
"The question of how effective or meaningful this is going to be will only be answered over time," Wilder said, according to the Times.
In past efforts to address ties to slavery, educational institutions have conducted studies and taken other steps to inform and educate about their involvement with the practice. For example, in 2003, Brown University created a memorial for slaves.
Eric Woods, a member of Georgetown's Working Group on Slavery, Memory, and Reconciliation that wrote the report of recommendations, said that he thinks "every institution has some obligation to recognize [slavery]." He added:
And because we have names and families and histories and can point directly to people and directly to their descendants today in a way that most institutions can't. We were in a very special place with regard to how we deal with it.
Georgetown's move might begin to set a new standard for universities, many of which were built on the backs of slaves prior to the Civil War.