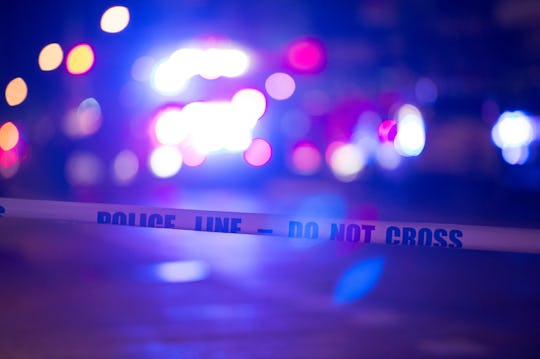 BRYAN R. SMITH/AFP/Getty Images
Everything You Need To Know About The Des Moines Officer Shooting
Early Wednesday morning, two police officers in greater Des Moines, Iowa were shot and killed approximately 20 minutes — and roughly three miles — apart from one another, by what appears to be a lone suspect. Unlike most officer deaths though, neither officer is thought to have interacted with the suspect prior to being shot. Instead, it is thought that they were each gunned down by the shooter while sitting alone in their respective police cruisers. Details about the case are still forthcoming, but here's everything you need to know about the Des Moines officer shooting, updated as new information becomes available.
According to NPR, the first shooting occurred shortly after 1 a.m. in the Des Moines suburb of Urbandale. According to The Guardian, officers responding to reports of shots fired in Urbandale found the first officer dead in his cruiser, while the second officer, believed to have been shot before 1:30 a.m., died in hospital. Speaking to reporters Wednesday, Des Moines police sergeant Paul Parizek emphasized the seemingly senseless nature of the shooting, telling reporters, "These guys were sitting in their car doing nothing wrong" when they were killed. Parizek also said he believed the shooting represented a "clear and present danger" to police officers in Iowa, and said the police department has ensured all officers will be paired up for safety moving forward.
The Shootings Were "Ambush-Style"
According to CNN, both officers were found still seated in their police cars after they'd been shot. Parizek told reporters that "in all appearances it looks ... that these officers were ambushed," and while no specific information about a motive has been released, Parizek said "there's somebody out there shooting police officers."
Police Have Apprehended A Suspect
At approximately 9 a.m. local time, police reportedly arrested 46-year-old Urbandale resident Scott Michael Greene in connection to the shootings, according to KCCI Des Moines. Officials had identified Greene as a suspect in the case earlier Wednesday, but stressed that he was still at large and considered armed and dangerous. It is not known if police believe any other suspects are involved, or whether Greene acted alone. Romper reached out to the Urbandale Police Department seeking comment from a representative for Greene and has not received a response.
According to The New York Times, Greene was on foot when he was found by police in Dallas County, and did not resist arrest. Details related to Greene's involvement in the shooting have not been released, though the New York Times noted that a man appearing to be Greene could be seen on video being escorted out from an Urbandale High School football game by police on Oct. 14, after he had allegedly become angry after someone had taken away his Confederate flag. In a 10-minute-long YouTube video that appears as though it may have been posted by Greene, he appears to tell police that he was "peacefully protesting," and that he wanted to file charges against, the "African-American people that were behind me" who he says took his flag away. At the end of the video, a female officer tells him that if he has an issue he'll "need to take that up with the Des Moines Police Department."
The Officers Names Have Not Been Released
Although the story of the Des Moines shootings has been developing since early Wednesday morning, one detail that still hasn't been released is the identity of the two slain officers. According to The Guardian, Parizek explained that officials were still in the process of notifying the officers' families, though it's not clear at this point whether that has now taken place.
What we do know, however, is that the Urbandale officer is thought to be the department's first shooting death involving an officer in the line of duty. For the Des Moines department as a whole, Wednesday's shootings were also very rare: according to The Guardian, the last time two officers were gunned down separately in the area was 1977.
The Shootings Are The Latest In A String Of Officer Deaths In Des Moines
The chilling report of the two officer shootings is enough to rock the entire Des Moines and Urbandale police departments, but Parizek said that they'd already endured a number of difficult events this year that makes Wednesday's shootings even harder to deal with. According to The Des Moines Register, two Des Moines officers died in March in a car crash while on duty, and according to CNN, 2016 has had the most police officers fatally shot in the United States since 2011.
A clearly emotional Parizek told reporters "I don't even know where to begin on how bad this year is," before explaining that Wednesday's shootings weren't going to intimidate police, or affect the level of service they offer Des Moines residents, according to The Guardian:
You're not going to see any difference in the service that we're providing and the way we do it. You've just got to look at the people that work here, you know that you've got the best police department in the nation ... We're going to be here tomorrow, we're going to be here tonight.
We're very well aware of the society we're living in right now and there's not so positive views of law enforcement [but] if we don't provide the service in the manner that we do, the personal type service that we do, we're nothing more than an occupying army.
What Happens Next?
As the country waits for more information about the Des Moines shootings, many have focused on offering condolences to the police force and their families during the investigation, and in a statement, Iowa Gov. Terry Branstad called on all Iowans to "support our law enforcement officials in bringing this suspect to justice," as well as "the police officers who were tragically killed in the line of duty [and] the officers who continue to put themselves in harm's way." While much of the country remains divided over the ongoing issue of police shootings of unarmed African-Americans, the tragic loss of the gunned-down officers feels immense, and like the kind of senseless violence that pretty much everyone can, and should, feel empathy for.