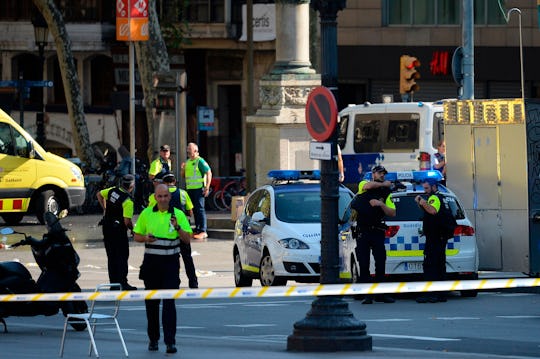 JOSEP LAGO/AFP/Getty Images
Eyewitness Accounts Of The Barcelona Van Crash Are Heartbreaking
On Thursday, a van plowed into a crowd of people in Barcelona, Spain, killing at least one person and injuring dozens of others. Catalan police officials believe the deadly attack to be terror-related, and eyewitness accounts of the Barcelona van crash are nothing if not heartbreaking.
The Telegraph reported Thursday that a white van mowed down people in Barcelona's Las Ramblas district, a popular tourist destination in the Catalonia capital. Though initial news reported identified multiple fatalities, police officials confirmed in a news conference that one person has died and 32 others have been wounded, the Telegraph reported. Police officials had thought a second van was involved in the incident; they found that vehicle in Vic, a town north of Barcelona.
According to The Guardian, witness Tom Gueller told PM, BBC Radio 4's long-running evening news program,
I heard screams and a bit of a crash and then I just saw the crowd parting and this van going full pelt down the middle of the Ramblas, and I immediately knew that it was a terrorist attack or something like that. ... [The van] wasn't slowing down at all. It was just going straight through the middle of the crowds in the middle of the Ramblas.
Another eyewitness, Ethan Spibey, recalled to Britain's Sky News, according to Reuters,
All of sudden it was real chaos. People just started running screaming, there were loud bangs. People just started running into shops, there was a kind of mini-stampede where we were, down one of the alleyways.
Catalan police are still searching for the driver, who fled the immediately fled the scene, as well as another suspect, according to NPR. Officials asked the public to "remain calm" and stay away from the tourist hub where the fatal attack occurred. The U.K.'s talkRADIO also reported that several nearby attractions and landmarks have been closed due to the incident.
According to talkRADIO, one unidentified eyewitness told TV3, Barcelona's news station,
The van went at high speed and hit everyone it could. I saw people flying through the air and landing with blood.
Ellen Vercamm, another witness on the scene, made a similar observation to El Pais, a local paper in Barcelona. According to Reuters, she said,
We saw a white van collide with people. We saw people going flying because of the collision, we also saw three cyclists go flying.
The Barcelona van crash is the latest in a string of vehicular attacks used to terrorize citizens around the globe. Similar incidents occurred in Berlin and Nice, France last year. And on Saturday, a white nationalist at the "United the Right" rally in Charlottesville, Virginia, allegedly barreled his van into a crowd of counter-protesters, killing on person.