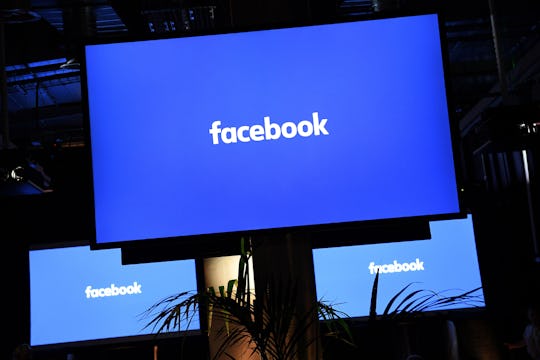 AFP/AFP/Getty Images
Facebook Censored A Breast Cancer Awareness Video, & The Reason Why Is Really Silly
In case you haven't heard, it's breast cancer awareness month. That means fundraising events and educational videos all over your news feed. Apparently, the latter is not acceptable by Facebook's standards. According to the Guardian, the social media network has come under fire for censoring an educational breast cancer video published by a cancer awareness charity organization.
The "Breast School" video, which aimed to show women how to conduct breast exams on themselves, featured animated images of breasts. Facebook took down the video, with an explanation that read: "Your ad can not market sex products or services nor adults products or services."
A Facebook spokesperson later apologized in a statement to Romper:
We're very sorry. Our team processes millions of advertising images each week, and in some instances we incorrectly prohibit ads. This image does not violate our ad policies. We apologize for the error and have let the advertiser know we are approving their ads.
Facebook did not immediately respond to Romper's request for comment.
The video was put together by the Swedish Cancer Society, a not-for-profit group owned by parent company Cancerfonden, in the hopes that it would educate women and enable them to self-examine. According to the Verge, a Cancerfonden spokeswoman told Agence France-Presse, "We find it incomprehensible and strange how one can perceive medical information as offensive. This is information that saves lives."
The Swedish Cancer Society then penned an open letter to Facebook explaining a humorously revised approach to their educational ad: square breasts, square areolae, and square nipples.
We understand that you have to have rules about the content published on your platform. But you must also understand that one of our main tasks is to disseminate important information about cancer — in this case breast cancer. After trying to meet your control for several days without success, we have now come up with a solution that will hopefully make you happy: Two pink squares! This can not possibly offend you, or anyone. Now we can continue to spread our important breast school without upsetting you.
Facebook has been highly criticized for its seemingly inconsistent rules on nudity and censorship. Earlier in October, it removed an article about mammograms because of the cover image that depicted a breast surgery. In regards to its photo censorship policies, Facebook said it restricts certain images for sensitivity reasons.
We restrict the display of nudity because some audiences within our global community may be sensitive to this type of content – particularly because of their cultural background or age. We... restrict some images of female breasts if they include the nipple, but we always allow photos of women actively engaged in breastfeeding or showing breasts with post-mastectomy scarring.
But in 2013, it removed photos of breast cancer survivors and in 2015, it censored images of breastfeeding mothers. So it seems that Facebook's policies are not uniformly applied. With as much power as Facebook has over what we see on the internet, all we can do is hope that Facebook (and people everywhere who find breasts offensive) continues to learn from these incidents.