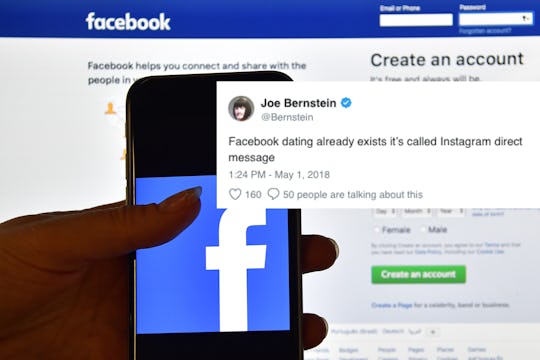 Carl Court/Getty Images News/Getty Images
Facebook Might Launch A Dating Feature, & Twitter Has Some *Feelings* About It
Just in case you didn't already have enough options when it comes to online dating, the word out of the annual F8 developer conference in California is that Facebook might launch a dating feature. And you'd better believe people on Twitter have some feelings about the idea — and most of them are pretty hilarious, if you ask me.
Facebook CEO Mark Zuckerberg announced on Tuesday that Facebook is poised to launch a new dating feature, and Chris Cox, Facebook's chief product officer, said the company will announce a launch date for the feature later in 2018, according to NBC News. So if you really haven't had enough of online dating between apps like Tinder and Bumble and websites like OkCupid, soon you'll be able to find a date through the biggest social media network there is, too.
The feature will reportedly be opt-in, which means you won't suddenly get all sorts of unwanted attention on Facebook from anyone looking to date or hook up — well, not any more than you might already get in your inboxes already, anyway. The feature also won't match users with people they're already friends with, BuzzFeed reported.
Zuckerberg said of the new dating service during his appearance at the conference, according to the BBC:
There are 200 million people on Facebook who list themselves as single.
And if we are committed to building meaningful relationships, then this is perhaps the most meaningful of all.
It certainly seems like connecting the millions of people who are already on Facebook and who might be looking for a date is a no-brainer for the social media platform. It's not as if new users will have to make their way to the site and create an account — if they want to participate, they're already there. Facebook just needs to tap into their existing user base.
But considering the fact that there are already a bunch of dating sites and apps out there, it also kind of seems like Facebook is late to the game on this one. Plus, the idea isn't exactly going over entirely positively on Twitter, which might indicate whether people will embrace the service or not.
Many of the responses on Twitter were pretty funny. A lot of people joked that Facebook dating is already a thing via services like direct messaging on other social media sites.
And a lot of people referred to the Facebook Cambridge Analytica scandal, during which a political data firm "improperly accessed" and shared data from around 87 million Facebook users, and Facebook's role in the controversy was heavily questioned, according to NPR.
A lot of people reacting on Twitter did not seem excited by the idea of Facebook launching a dating service, to say the least.
Outside of Twitter, one group of people in particular also didn't seem all that pleased by Zuckerberg's announcement either. The mere announcement that Facebook is developing a dating service caused stock in other dating services to drop, according to Quartz.
The stock price for Match Group, which owns the popular Match.com, OkCupid, Tinder, and some other dating services, tanked following the F8 conference announcement — it was down more than 18 percent around 3 p.m. on Tuesday, Quartz reported.
So even if people on Twitter are making fun of Facebook's decision to get in on the dating game, the announcement clearly made an impact on the dating app industry. Match actually uses Facebook to authenticate users on many of its apps, according to Bloomberg. So it makes sense that even the idea that Facebook could crowd the industry's playing field further — or maybe even take some of Match's current ability to use Facebook data on its platform away — is causing companies like Match and its investors to freak out a little bit.
For better or worse, Twitter users had a lot to say about the announcement on Tuesday. Most of it was humorous, at least, so no matter how you might feel about Facebook getting involved in yet another aspect of your life, at least you can distract yourself with funny memes and tweets about the news.
Zuckerberg said friends won't be able to see each others' dating profiles if they opt in to the new service, according to BuzzFeed. So at least you won't have to worry about your grandma reading your best pick-ups lines in your profile if you choose to participate in it. Small mercies, I guess.