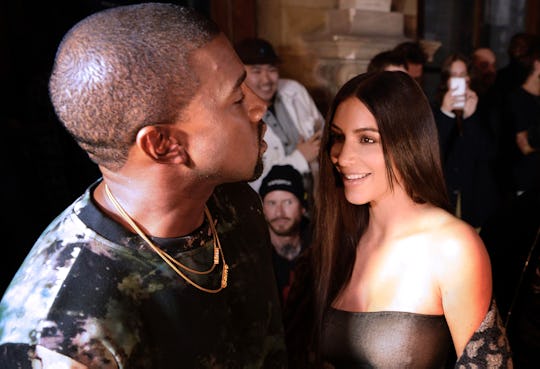 ALAIN JOCARD/AFP/Getty Images
Fans Are Already Naming Kim & Kanye's Third Child
Much speculation has been drawn regarding Kim Kardashian and Kanye West having a third child. After Kardashian struggled through her first two pregnancies, the two decided to use a surrogate for their third. And now that it has been confirmed that their surrogate is pregnant — and reportedly several months along — fans are already naming Kardashian's third baby all sorts of strange things. And it's pretty entertaining to see what Twitter wants North and Saint's sibling to be named.
Of course, all (well, OK, most) of the suggestions are all in good fun, and mostly, fans are just excited for the couple to be able to expand their family. After all, Kardashian has been fairly open about her pregnancy struggles and dealing with preeclampsia, as well as placenta accreta while she was pregnant with her first child, 4-year-old daughter North West.
And obviously, with names like North, and 1-year-old Saint West, it makes sense that Twitter users would be all over the opportunity to brainstorm some name choices for baby number three.
So, keep reading on to see some of the best suggestions thus far, and for a nice little mid-week laugh, because I'm pretty sure most of us could use one.
Of course, some of the suggestions were cuter than clever, but overall, Twitter had some pretty solid ideas for Kimye's new little one.
And while all of the guesses and suggestions are mainly just a fun little game for Twitter users, there's actually a fairly good chance someone might get the name right. In fact, in June of 2015, months before Kardashian gave birth to her son, one Twitter user correctly guessed the name. "Watch kanye name his kid "saint" for [sic] some stupid sh*t," he wrote, later gaining fame for his lucky guess.
Some Twitter users took more creative approaches, even suggesting that the couple name the child "Taylor" referencing the alleged feud between Kimye and 10-time Grammy winner, Taylor Swift.
Really, though, it doesn't matter what Kardashian and West choose to name their little one. What matters is that the family is happy, and that the baby is healthy. Kardashian has already dealt with far too many fertility and pregnancy struggles in the past, she deserves to just relax and enjoy this time before this bundle of joy arrives.
And whatever this little gal ends up being named, we can all rest assured that she'll be welcomed into an already beautiful family.
Check out Romper's new video series, Romper's Doula Diaries: