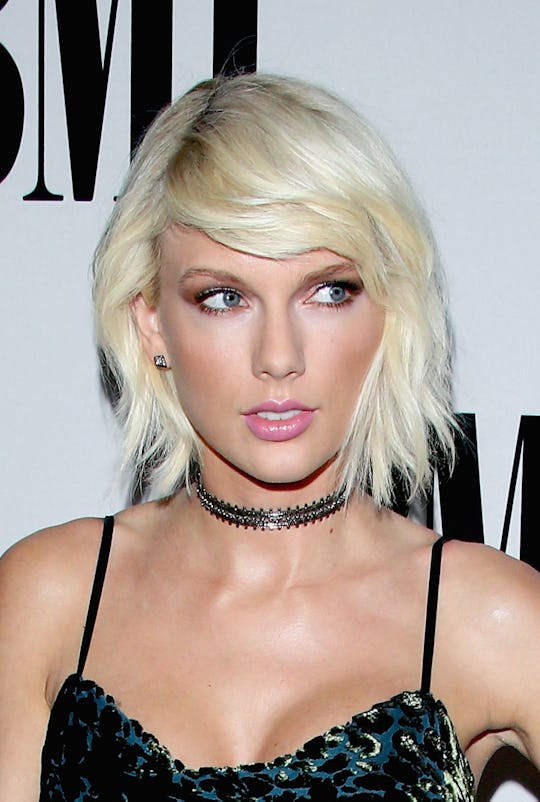 Mark Davis/Getty Images Entertainment/Getty Images
Fans Are Spelling Reputation As 'Repuation' & People Cannot Even
Taylor Swift's loyal fans were quick to take to Twitter after the midnight release of her highly-anticipated album Reputation. So quick, in fact, that fans are spelling reputation "repuation" and, well, the rest of us can't even, you guys. Sure, we could collectively blame the late-night release (why, Taylor?) or the excitement of trying to de-code tracks like "I Did Something Bad" and "Kind Of My Heart." But come on, T-Swift fans. We already have to deal with a dude who tweets "bigly" and doesn't seem to know the difference between "to, too, and two." Help us out, here.
Actually, after a scroll through Twitter, it was clear to see that the misspelling (that left #repuation trending worldwide for hours) probably had something to do with Reputation and Spotify. On Tuesday, Nov. 7, it was reported that Swift's Reputation "won't be available on any streaming services for at least a week" after its release on Nov. 10, according to The Verge. Some Swifties didn't seem to get the memo, though, and set their alarms for midnight only to be severely disappointed that Reputation was not, in fact, available on Spotify for their listening and speculating pleasure. Fans could, however, purchase Reputation on Apple Music and iTunes. So, you know, not all is lost.
Another potential culprit at play? Excitement itself. Given the drama that has followed T-Swift in the last, oh, I dunno, always, fans were giddy about the idea of listening to tracks with hidden meanings, lowkey subtweets, and a hint at her new romantic relationship with Joe Alwyn, who friends of Swift's claim could be "the one," according to People. In fact, the song "Dress" is a much more "sexualized" track than Swifties are probably used to hearing, and includes arguably Swift's sexiest lyrics to date. When she's singing, "Say my name and everything just stops / I don't want you like a best friend / Only bought this dress so you could take it off, take it off / Carve your name into my bed post," one can only assume that her current relationship is going, well, pretty damn well.
So whether it's tracks like "This Is Why We Can't Have Nice Things," a song fans are convinced is about Taylor's ongoing feud with Kim Kardashian-West and Kanye West, or "I Did Something Bad," a potential ode to her failed relationship with Calvin Harris, fans were feeling all the feelings and, well, it's hard to spell under those conditions.
Regardless of the reason behind the misspelling faux pas, other Twitter users were quick to point it out. I mean, what's Twitter for, if not to shamelessly correct one another's grammar, punctuation, and spelling in 140 characters (now 280, gasp!) or less?
Hey, we all make mistakes on social media, right? I'm certainly guilty of more than a few. And if it's the middle of the night after a particularly long week, and you're listening to an album you've been jonesing for since who-the-hell-knows when, it's understandable that, perhaps, you'd mix up a letter here and another letter there. Listening to music and typing at the same time isn't as easy as one would assume, people.
Then again, the album has been discussed ad nauseam since Swift's cryptic social media announcements that ended her "social media blackout" and alerted her fans to Reputation's release. So, you know, maybe just slow down and really look at the word before you tweet it out to millions upon millions of people and it starts to trend. Can't hurt, right?
Check out Romper's new video series, Romper's Doula Diaries:
Watch full episodes of Romper's Doula Diaries on Facebook Watch.