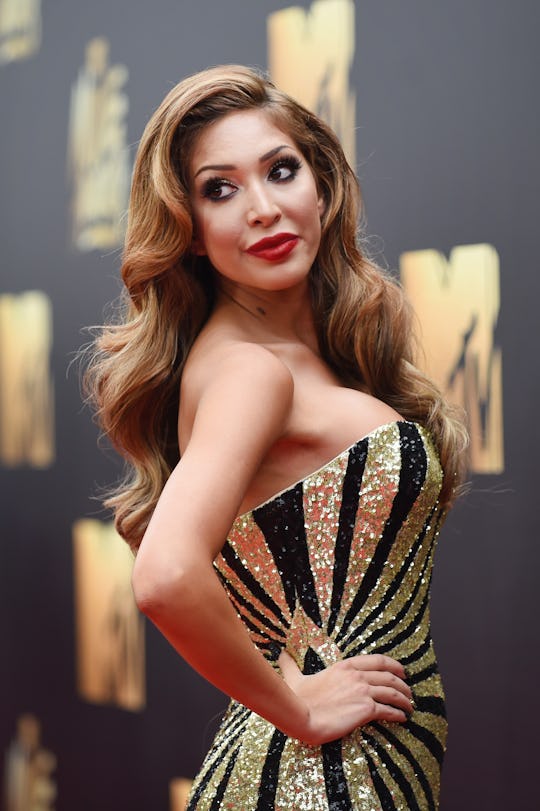 Emma McIntyre/Getty Images Entertainment/Getty Images
Farrah Abraham's Parenting Instagrams Show She DGAF What You Think Of Her As A Mother
Oh, Farrah Abraham. Everyone's favorite love-to-hate Teen Mom OG turned adult film star. There's no doubt that Abraham is definitely a polarizing figure, and that she certainly gets a lot of hate on social media, where she proudly shares all the details about her controversial life — including her role as a mom to 7-year-old daughter Sophia. But if there's one thing that seems pretty clear, it's that, for all the judgment and criticism that gets thrown her way, Farrah Abraham's parenting Instagrams show she really couldn't care less about the haters, and that she's going to keep living her life on her own terms, regardless of what anyone else has to say about it.
According to People, Abraham took a lot of heat recently when she began sharing photos from Sophia's emerging modeling career, with many of her followers saying that the photos (in which Sophia can be seen wearing a full face of makeup) were too grown up or provocative for such a young child. But Abraham totally disagreed with the criticism, and said,
There's a lot of young children who do modeling, and everyone loves her pictures. I think because we're on Teen Mom OG, we get bad criticism, but Sophia's doing amazing in modeling, I couldn't be more proud of her — she's opening up her own children's boutique, we're selling clothing. So the more pictures and more she's in a positive light and happy with what she's doing, there's nothing wrong with embracing how awesome Sophia is.
But not only did Abraham not balk at the criticism, she went right ahead and stepped up her support of her daughter's career, carving out a social media presence for her on Instagram, Twitter and Snapchat (all managed by Abraham herself, of course). Unsurprisingly, it seems to be working — Sophia has 125,000 followers on Instagram alone — and given that Abraham appears to be a big believer in leveraging all kinds of opportunities that come her way to financially support herself and her daughter, Sophia's popularity is likely a big win for the mom-and-daughter duo.
After all, regardless of what you think about the integrity of Abraham's business ventures, she is a businesswoman. Aside from the money she makes from reality television, Abraham's LinkedIn account says she runs both a children's boutique and a frozen yogurt restaurant in Austin, Texas; is a New York Times bestselling author; and has also flipped a house in Los Angeles she bought as an investment, according to The Daily Mail.
But she also emphasizes that she is a devoted mom to her daughter above all else, regularly posting proud mama moments, like a special shout out to Sophia on her first day of second grade, or fun video clips of Sophia pretending to be a mermaid at the beach. Sure, she might not be the type of maternal role model most people admire, and there are a seemingly endless number of comments floating around the internet about whether Abraham is a "good mom" or not, but as far as Abraham is concerned, she and her daughter have a wonderful relationship. The reality star told People,
[Sophia and I are] in a super great place. I always try to be very connected with her and be the best mom that I can be. I think we have a better communication than my mom and I ever had, and as she gets older we'll be able to talk and stay close rather than argue and fight.
Abraham's mom style is definitely different from most moms', and as a mother of young children myself, I certainly don't think I'd have made some of the same decisions she has. But Abraham's public posts also make it pretty clear that, well, she doesn't particularly care. And given that pretty much every mother in existence these days has to endure some kind of criticism and judgment about even the most mundane parenting decisions (breast or bottle? CIO or co-sleep?), maybe we could all benefit from a tiny bit of Abraham's perspective.
Sophia is a young girl, and hopefully she really is getting everything she needs from her mom and her extended family (and whoever else makes up her particular 'village'). But, ultimately, it's impossible to know that just by following them on social media. So, as with a lot of things, all the outside judgment is probably misplaced — even if some of Abraham's choices seem totally judgment-worthy. Either way, Abraham is going to keep on doing what she's doing without concerning herself with the haters. And I can't say I really blame her for doing that.