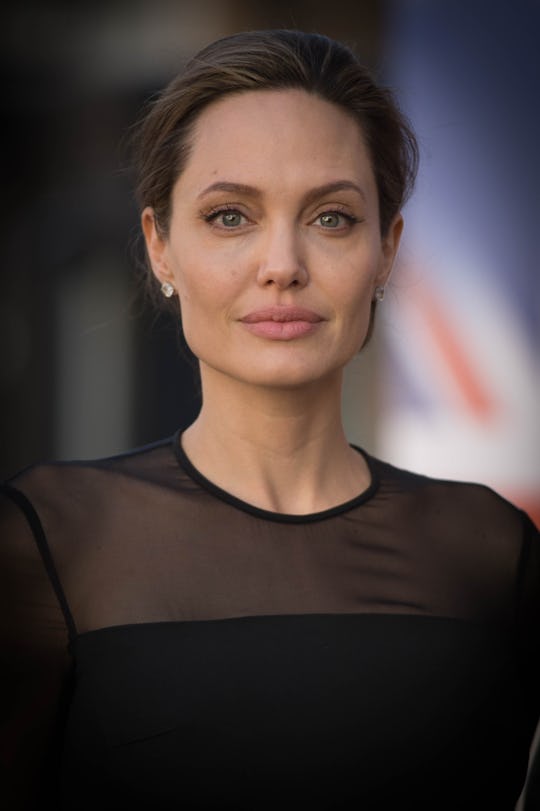 STEFAN ROUSSEAU/AFP/Getty Images
FBI Reportedly Interviewed Angelina Jolie For 4 Hours About Brad Pitt Allegations
Weeks after the world found out that Hollywood's most beloved couple, Angelina Jolie and Brad Pitt, was getting divorced, news broke that the Los Angeles County Department of Children and Family Services (DCFS) was investigating alleged incidents between the pair. Divorce documents now reveal that the FBI reportedly interviewed Angelina Jolie for four hours about an alleged incident that took place on an airplane, where Pitt allegedly became physically and verbally abusive toward his 15-year-old son Maddox. Romper reached out to both Jolie's and Pitt's representatives regarding this new report, as well as the ongoing and extended investigation focusing on Pitt's alleged child abuse, but did not immediately receive a response.
Us Weekly reported that Jolie was questioned in her Los Angeles home about the alleged events that took place on Sept. 14 at Minnesota's National Falls Airport, in which Pitt allegedly became physical with his oldest son following an argument with Jolie. The whole incident may have even been caught on video. A source told Us Weekly that the footage captured Pitt "looking drunk" and "yelling" at his family — although no physical confrontations were reportedly seen — after their private jet stopped to refuel at the Minnesota airport.
"The agents wanted a breakdown of everything that happened from when the plane took off to when it landed," a source told Us Weekly, regarding Jolie's four-hour long interview with the FBI. "They're looking into charges of assault."
Although investigations into the situation are ongoing, Pitt has reportedly denied any wrongdoing on his part.
A source close to the situation told Us Weekly that the FBI as well as DCFS are looking into the case to get "a breakdown of everything."
The source claimed,
Neither side wants this to go to court because everything the FBI and DCFS investigated will potentially be made available to the public, which would be bad for the entire family.
Pitt and Jolie have six children together: Maddox, 15, Pax, 12, Zahara, 11, Shiloh, 10, and 8-year-old twins Knox and Vivienne. Shortly after the infamous couple's divorce was first announced in September, 52-year-old Pitt released the following statement via People:
I am very saddened by this, but what matters most now is the well being of our kids. I kindly ask the press to give them the space they deserve during this challenging time.
A statement from Jolie's lawyer also obtained by People read that the actress had "filed for dissolution of the marriage" and that the "decision was made for the health of the family."
If the recent revelations and report prove to be true, both Jolie and Pitt's statements about the well-being and health of their family could help add some insight into this developing and saddening saga.