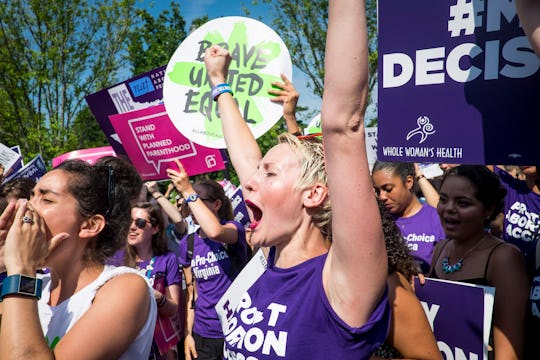 Pete Marovich/Getty Images News/Getty Images
Federal Judge Blocks Indiana's Abortion Law, & It's Another Crucial Step Forward
In April, Indiana Gov. Mike Pence signed a bill approving one the most restrictive anti-abortion laws in the United States. However, earlier Thursday U.S. District Judge Tanya Walton Pratt granted a preliminary injunction to Planned Parenthood — who filed suit against the State, arguing the legislation was unconstitutional and violated women's rights. What does all this mean? Well, in short, Federal Judge Pratt blocked Indiana's abortion law — at least temporarily — just hours before it was slated to go into effect. But what was so troubling about this particular piece of legislation?
Two words: A lot. While this was not the first anti-abortion law passed in the Hooiser State, the sheer number of restrictions this particular piece of legislation proposed was horrifying. In fact, according to Pence in The New York Times, not only would the new law severely limit women's rights to abortions (the bill determined under what circumstances a woman could have an abortion) it would hold doctors liable for performing unlawful abortions:
[The bill] will ensure the dignified final treatment of the unborn and prohibits abortions that are based only on the unborn child's sex, race, color, national origin, ancestry or disability, including Down syndrome.
Pence added:
Some of my most precious moments as governor have been with families of children with disabilities, especially those raising children with Down syndrome.
I think Pence's sentiment is great. Unfortunately, not every couple or individual feels emotionally equipped or financially equipped to raise a child with a disability. (And yes, it is financially difficult to raise a special needs child. In fact, according to JAMA Pediatrics, the Journal of the American Medical Association, and The Daily Beast, it will "cost a family almost $2.5 million" to raise a child with a disability.) What's more, not every couple wants to, can be, or should be parents, and both of these situations are OK because decisions like this are — and should remain — family decisions. Or, as Pratt stated, decisions like this are women's decisions:
It is a woman's right to choose an abortion that is protected, which, of course, leaves no room for the state to examine the basis or bases upon which a woman makes her choice.
And while the "Indiana Right to Life" law is not the first legislation of its kind — Arizona bans abortion on the basis of race and North Dakota has outlawed abortions because of the presence of a disability — Indian's legislation was slated to be the first, and only, law that would hold doctors liable and put their careers in jeopardy. Or as Professor Dawn Johnsen explained to The New York Times, this law was "a clear attempt to interfere [with the abortion process] and harm and chill doctors' willingness to perform abortions."
When it all comes down to it, the right to choose is just that: the right to choose. It isn't the public's right or the government's right — it is a woman's right, and it seems Pratt's decision only reinforces this mindset.