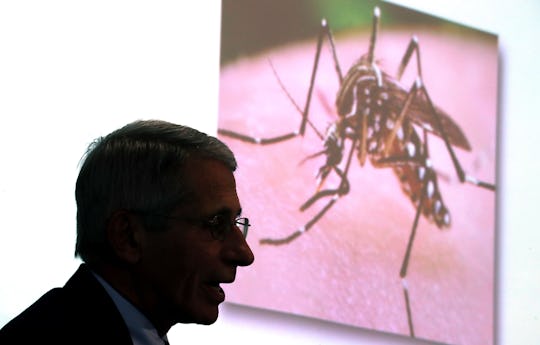 Chip Somodevilla/Getty Images News/Getty Images
Photos Of The First U.S. Zika Patient Are Here
It's January, so this summer might seem months away and far from your mind. Unfortunately, it's apparently never too early to start thinking about mosquito season and the risk Zika might still harbor for the United States. As the summer months approach, doctors are now seeing the effects that Zika had in the United States and surrounding areas in 2016. And the first photos of Zika patients in the United States show why it is more important than ever to prepare for mosquito season early and be able to identify the virus' symptoms.
The case study, published on Wednesday in The New England Journal of Medicine, reveals the photos and details from the first ever patient in the United States to become infected with Zika locally — in other words, to become infected with Zika by a mosquito in the United States and not abroad or through sexual contact. According to ABC News, the first patient in the country infected with Zika was a 23-year-old woman from south Florida who was five months pregnant at the time.
By now, people should be familiar with common Zika symptoms — a fever, rash, and muscle pain. But these published photos of the Zika patient give people a more clear vision on how to identify a Zika rash — and as is apparent, it's "an extensive rash" that affected the woman's stomach, chest, arms, and legs, according to ABC News.
"When we saw her, her rash was non-specific," Dr. Lucky Chen — who treated the patient, told ABC News. In addition to the rash, according to the case study, the woman had a fever than lasted three days and a sore throat, which was followed by joint pain two days later.
The patient was tested for a variety of illnesses, such as hepatitis B, measles, rubella, mumps, and dengue, among many others — but test results came back inconclusive. She did, however, test positive for Zika. And although the woman was pregnant, the baby was thankfully not affected by the virus — according to ABC News, she was able to give birth naturally last year to a baby that showed "no signs of birth defects and tested negative for the virus." This is a good sign — given that Zika has been linked to microcephaly in infants.
Everyone can learn a lot from these findings. The picture of the rash will now make it easier to identify what a Zika rash might look like, and the study's findings can help people know how long the symptoms might persist. As of January, according to the Centers for Disease Control and Prevention, Florida is the only state within the United States to have a local transmission of Zika — and just last month Florida Gov. Rick Scott declared Florida free of locally transmitted Zika, according to ABC News, so even if the new photos make you nervous, it's safe to say zika transmission in your own backyard isn't exactly likely (yet).
These photos and this new case study will only help paint a better picture of what Zika looks like in the United States. Hopefully it'll also give everyone plenty of time to prepare for mosquito season.