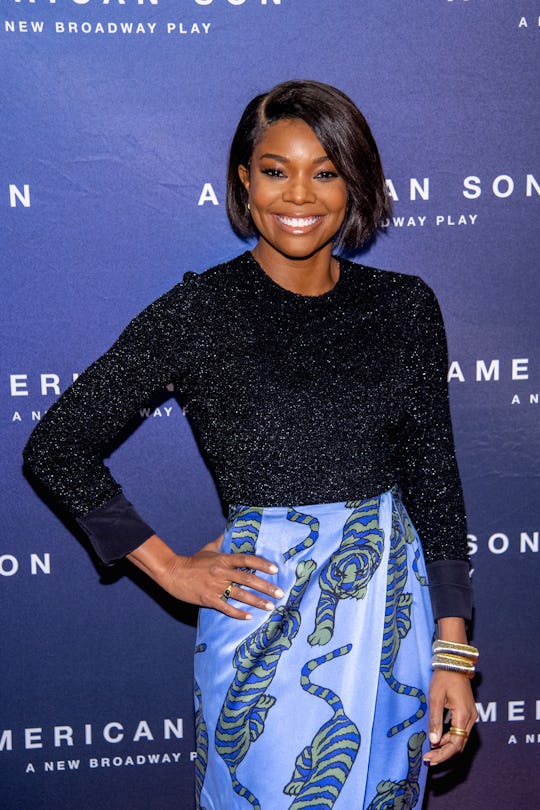 Roy Rochlin/Getty Images Entertainment/Getty Images
Gabrielle Union's Latest Post With Baby Kaavia Shows She's Savoring Every Moment
When there's a new little baby around, feeling perfectly content sitting with a little one snuggled up against you is pretty understandable, but it can also really get in the way of other things that you had planned — a date night, errands that need to be checked off a list, tasks that need to be done. All of those things can come secondary to spending time with a sweet little baby. And that's why Gabrielle Union's post about cuddling with baby Kaavia and neglecting her plans for the night is so totally relatable — because it's really hard to get things done with someone so cute around.
Over the long Thanksgiving holiday weekend, Union had some sort of plan set, things she wanted or needed to do (though it's unclear what — hopefully something fun and relaxing for the tired new mama), but sweet baby Kaavia got in the way. Union posted two photos of her and her daughter cuddling to her Instagram story. One she captioned, "@kaaviajames is the captain now," seemingly referring to the famous (and oft-quoted) line from the 2013 film, Captain Phillips, and the other: "So much for my plans tonight. There was a mighty battle and mama lost."
The two photos were posted several hours apart, so it's pretty clear that Kaavia's big holiday weekend plan was just spending lots of time snuggling with her mama.
Kaavia has been a big presence on her mom's Instagram account since arriving on the scene back on November 7. In fact, Union announced the birth of her daughter with husband Dwyane Wade via surrogate on Instagram, and has continued to post many sweet shots of the newest little member of the family with her parents (and Oprah). But Kaavia James Union Wade also has a social media presence of her own, even if she doesn't know it yet. Clearly over-the-moon parents Union and Wade post photos and videos of their little one with her older brothers, with other family members, and hanging out by herself on her own Instagram account, which has 234,000 followers — not bad for a baby who's less than a month old.
Union, Wade, and their boys seem pretty in love with their newest family member, so I'm sure Union didn't even mind forgoing whatever plans she had for the evening to spend a little quality time with Kaavia. After all, she'll only be so little for so long, and it seems that her mom just wants to soak up every moment — and who can blame her?
The slightly larger Union-Wade family celebrated their first Thanksgiving with Kaavia on Thursday, Nov. 22, with Union again sharing a sweet snap of mom, dad, and baby. "Thankful and Happy. Very Thankful and Very Happy. Love to you and yours 🍁🤗 #HappyThanksgiving," the actress captioned the photo.
Only a few weeks into life and baby Kaavia is acing the social media game already. Union seems pretty happy with sharing all kinds of cute sneak peaks into life with her little gal, and fans, in turn, are more than happy to get the inside scoop. Here's hoping that Union, Wade, and the whole family enjoys plenty of moments like this while Kaavia is little — it only lasts for so long, after all.
Season 2 of Doula Diaries shares the stories of fearless doulas helping their clients take control of their births and make tough choices that feel right to them. Watch the first episode of the new season Monday, November 26th.