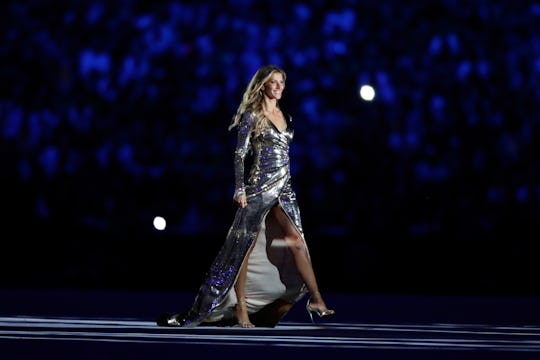 Jamie Squire/Getty Images Sport/Getty Images
Gisele Bundchen's Rio Opening Ceremonies Appearance Was Disappointing For Fans
Walking to the 1960s bossa nova classica, "The Girl from Ipanema," Brazilian supermodel Gisele Bündchen represented her country at the 2016 Rio Olympics opening ceremony by playing the iconic role of the Girl from Ipanema. Although her fans were excited to see her taking part in the ceremony many were disappointed by Gisele Bündchen's appearance in the Rio opening ceremonies.
Daniel Jobim, the grandson of Antonio "Tom" Carlos Jobim, who composed "The Girl From Ipanema," played the iconic song while Gisele was supposed to perform. But all she did was work the runway. As a model Gisele is unbelievably gorgeous and, although no one would object to her making the stage her very own catwalk, people were expecting to see a bit more, especially after all the hype. There was no dancing and she didn't even attempt to sing the song. More than that, she was walking down the runway for a while. Many viewers were wondering when it would end and if she would just be walking the entire and were surprised when that's exactly what she did.
The less than stellar performance has many wondering why the original girl from Ipanema wasn't asked to walk the runway herself. At 71 years old, Helô Pinheiro, is forever immortalized as the girl from Ipanema, because she served as the muse who inspired the song. Although she isn't at the opening ceremonies, CNN reported that Pinheiro will be returning to Rio as a torchbearer on the final day of the 2016 Summer Olympics for the torch relay.
Of course, not everyone was hating on the supermodel. Many of her fans, especially those who were stateside, applauded Gisele's appearance.
Some even noted how poetic it was that Gisele, who announced her retirement from modeling on Instagram more than a year ago, came back to Brazil for one final walk.
It would've been fun to see Gisele walking side by side with the original girl from Ipanema, and it may have even made the walk a little more interesting to watch. But if the world has to watch someone walk through a stadium, at least it was a beauty like Gisele.