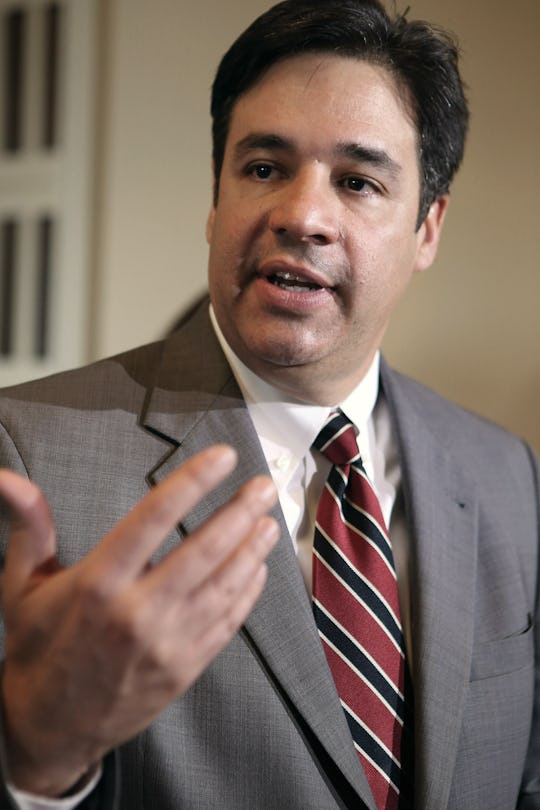 Chip Somodevilla/Getty Images News/Getty Images
Rep. Labrador Says 'No One Dies' Without Health Care
House Republicans took one step closer to repealing and replacing the Affordable Care Act on Thursday. After two months of in-fighting, criticism, and speculation, the American Health Care Act was narrowly passed in the U.S. House of Representatives. And while many House Republicans got together for a big old round of back patting and drinking beer on the grounds of the White House to celebrate, millions of Americans were horrified. They needn't be, apparently, because one GOP Congressman alleged that "nobody dies" without health care on Friday. Statistics and facts be damned.
Republican Rep. Raul Labrador from Idaho was speaking at a Town Hall meeting on Friday in Lewiston, Idaho. The crowd was reportedly volatile in the wake of the health care bill vote, and one constituent called Labrador out for the proposed Medicaid cuts:
You are mandating people on Medicaid accept dying. You are making a mandate that will kill people.
Labrador's response?
No one wants anybody to die. That line is so indefensible. Nobody dies because they don't have access to health care.
The audience clearly didn't agree; the Huffington Post reported that the audience jeered at Labrador. Labrador was one of 217 House Republicans who voted in favor of the health care bill orchestrated in large part by Speaker of the House Paul Ryan, GOP rep from Wisconsin, according to The Washington Post.
Romper has reached out to Rep. Labrador for comment and is awaiting a reply.
Labrador's comments are, unfortunately, incorrect. Before Obamacare was passed in 2010, a 2009 Harvard study found that a whopping 45,000 Americans died every year due to lack of health care. The GOP congressman's assertion that no one had died due to a lack of health care are not only wrong, they an an insult to every person who did, indeed, die for that exact reason.
At this stage, nobody knows how many lives could potentially be lost if this latest health care bill is passed by the Senate (which seems highly unlikely, as Vox reported that several Republican senators have already been vocal in their criticism of the AHCA). But here is what we do know; the non-partisan Congressional Budget Office projected that the AHCA would leave 24 million Americans without health care in the first 10 years. There would be $800 million taken out of Medicaid. The MacArthur Amendment, which was added after the ultra-conservative House Freedom Caucus would not support the initial proposed health care bill, would give states the option to waive federal protections against insurance providers charging higher fees for people with pre-existing conditions. None of which is good news for the average American.
The next time Rep. Labrador wants to explain away his vote in favor of the disastrous health care bill, he might want to come up with a strong argument than, Sure, lots of people won't have health care. But at least they won't die, right?