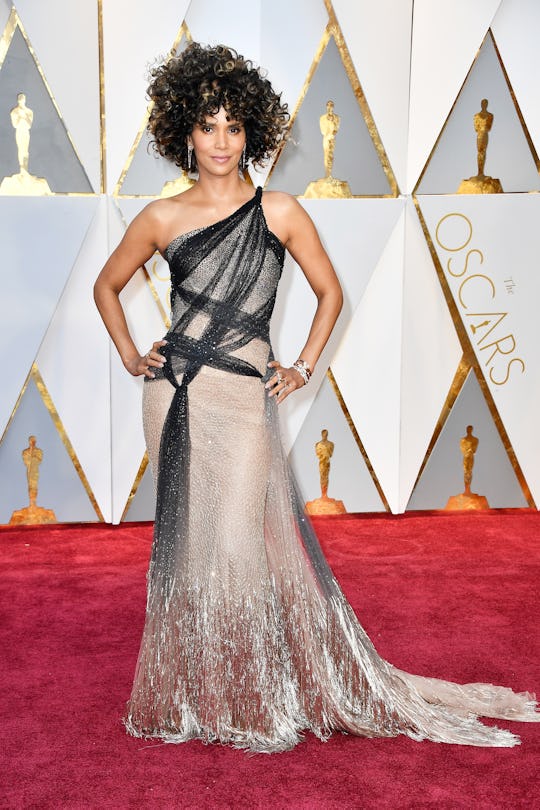 Frazer Harrison/Getty Images Entertainment/Getty Images
Halle Berry Says She Reads Child Care Books In Bed
When it comes to award shows, the red carpet is definitely a prime spot for incredible sound bites. At this year's Academy Awards, stars were dishing all about their fashion statements, political ideologies, and personal lives. Halle Berry says she reads child care books in bed on the Oscars red carpet, and it's totally relatable — and probably what a lot of parents are doing Sunday night instead of watching the ceremony.
Berry, 50, won the Best Actress Oscar for her role in Monster's Ball back in 2002 and skyrocketed to fame from there. That being said, Berry has also been a fairly private person — as private as celebrities can be at least. She's been especially mindful of her social media presence and discussions during interviews since the births of her children. She made headlines back in 2015 after splitting with husband Olivier Martinez, with whom she has a son.
As she mentioned on this year's red carpet, she has two children at home (though no word if they're allowed to stay up late to watch the ceremony). When it comes to her kids, Nahla Aubrey, 9 (whose father is model Gabriel Aubry) and Maceo Martinez, 3, Berry is particularly private, and she's one star who has been adamant from day one about keeping her kids likenesses off social media. In fact, she has very rarely shared any photos of them at all — and the ones she does share usually don't show their faces.
Berry was actually hotly criticized for this back in October when she posted a photo to Instagram with Nahla and Maceo in which she'd cropped out their faces. Both of Berry's kids were sporting adorable tee shirts with cheerful messages: Nahla's said "Girls will change the world" and Maceo's said "Kindness is the new cool."
Some internet trolls called Berry out for not showing her children's faces in full in the photos, positing that it was because she was "ashamed" of them. Berry immediately responded to the troll's accusation with a message that is totally relatable even if you aren't a celebrity parent:
I've noticed you have said this several times now so let me be clear-- I'm not at all ashamed of children. I try to find creative ways to incorporate them into my feed because they are the biggest part of my life, but I also work very hard to keep their identities as private as I can considering they are only children. It's my belief, and I'm not criticizing others who have different beliefs, that it's my job as their mother to protect their privacy as best I can. When they grow and they're of age and they want share their images on the internet, that will be for them to decide, not me. Feel me? Have a beautiful day.
Berry might be a superstar on screen, but she's also a super-devoted mom. On this year's red carpet, when Ryan Seacrest asked about what she's been reading lately, she said that she's mostly been reading child care books — because no matter what, being a mom is her favorite role.
As she told PEOPLE, "Right now, being mom is my most important job and I now know that everything I do, everything I say and everything I offer them is really important. I say lots of things, but I think what's more important is that my children watch what I do. I'm more mindful of how I live my life and what they see me do."