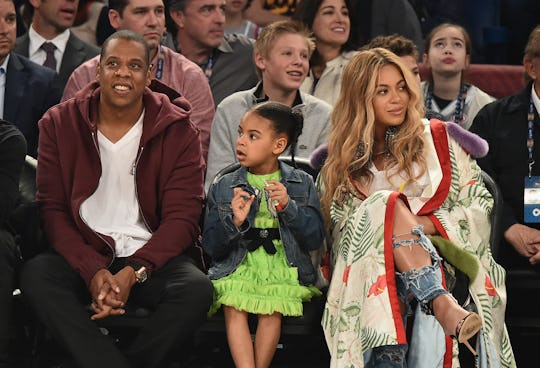 Theo Wargo/Getty Images Entertainment/Getty Images
Has Blue Ivy Met The Twins?
For months now, the internet has been awash with speculation about the impending Carter twins. Now that Beyoncé and JAY-Z have welcomed their twins, reportedly a baby boy and girl, you might think interest would die down a little. You would be ever-so-wrong, my friend. Because the twins have arrived, and now fans need to know more. All the time, more. Fans need to see pictures of the most famous twins in the known universe. They need to know if Blue Ivy has met the twins, and how she reacted to them. Because let's face it — the only child of Beyoncé and JAY-Z has had some years as the number one child under her belt. And new babies can make for some kid drama.
Queen Bey reportedly gave birth sometime last week, though reports about the birth came out on Sunday, according to multiple sources including her father, Matthew Knowles, who shared the news via a balloon-filled tweet which read "They're here!#beyonce #twins #jayz #happybirthday. Love, Granddad." The twins, whose names have not yet been released by their parents, are also reportedly still in the hospital being treated for jaundice (a yellow discoloration of the skin and around the eyes in babies). Sources told The Daily Mail on Tuesday that the twins were "under the lights" (a common treatment for jaundice) and will remain in the hospital for the time being. Beyoncé's representative has not responded to requests for comment regarding these claims or with confirmation of the twins' birth.
With the twins still in the hospital and the Carters maintaining their radio silence, news of a meeting between 5-year-old Blue Ivy and her new siblings has been shaky at best. While there have been reports from outlets like The Sun that Blue Ivy was in the delivery room when the twins were born and that her parents would let her name the twins, nothing has officially been confirmed by Bey or JAY-Z. Some news outlets, like Life and Style magazine, also shared word that Blue Ivy has already reportedly met the twins. The news outlet credited an unnamed source, who insists that:
Blue Ivy is so excited to be a big sister that she can't stop smiling! She's upset the twins can't come home yet.
Of course, the internet has other ideas about how Blue Ivy might react to the twins. And while it's obviously just speculation... guys, don't be that way.
It makes sense that Blue Ivy would have met the twins by now, of course; becoming a big sister is an important rite of passage for her, and both of her parents would naturally want her to feel included. Whether or not she was present for their birth, or will be allowed to name the twins, is anyone's guess. And if we know the internet at all... anyone will definitely guess.
It's an exciting time for the Carter family. Here's hoping they get to enjoy it.