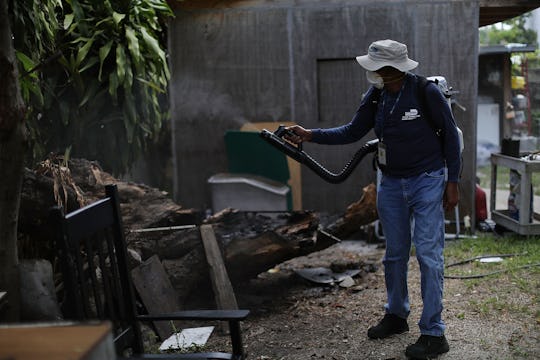 Joe Raedle/Getty Images News/Getty Images
Has Mosquito-Borne Zika Been Found In Any Other States? It's Only In Florida — For Now
In unsettling news, mosquitos carrying the Zika virus have finally found their way to Florida. On Tuesday, officials confirmed 14 cases of mosquito-borne Zika in the Wynwood neighborhood of Miami, leading many people around the country to start worrying on overdrive. But has mosquite-borne Zika been found in other U.S. states? Not yet, and hopefully not ever.
Up until recently, although Zika had been reported in almost every state in the United States, it was solely the kind brought back from travel abroad, or transmitted from person to person through sexual contact. The news of a mosquito-borne variation in Florida is scary, especially for pregnant women. Though Zika does not cause serious symptoms in most people, it can have terrible consequences for pregnant women, with babies exposed to the virus in the womb having the potential to be born with birth defects like microcephaly.
Consequently, the Centers for Disease Control and Prevention (CDC) has warned pregnant women to stay away from the Wynwood area, as well as portions of nearby Edgewater. The agency has also advised women who went to the area over the last month and a half to avoid getting pregnant for at least another two months. This is definitely scary news, but the bright side is that so far, mosquito-borne Zika seems to be contained solely to Florida. However, the United States government will have to act fast to make sure it stays that way.
In a statement on his website, Florida Governor Rick Scott called on the federal agency to help, saying,
Following today's announcement, I have requested the CDC activate their Emergency Response Team to assist the DOH in their research, investigation, and sample collection efforts. Their team will consist of public health experts, whose role is to augment our response to confirmed local transmissions of the Zika virus.
Up until this point, the federal government has been lacking in its response to Zika, with President Barack Obama's request for $1.9 billion to fight the virus getting tied up in partisan squabbling. Congress failed to pass any sort of Zika bill before adjourning for the summer, but leaders have recently been calling for an emergency session to respond to this crisis. In the meantime, the CDC has sent down multiple officers to the state, in the hopes of containing the virus.
Hopefully Congress will be able to get its act together as soon as possible. The threat of mosquito-borne Zika in the United States is now a reality, and everyone needs to put aside politics to contain it as well as they possibly can.