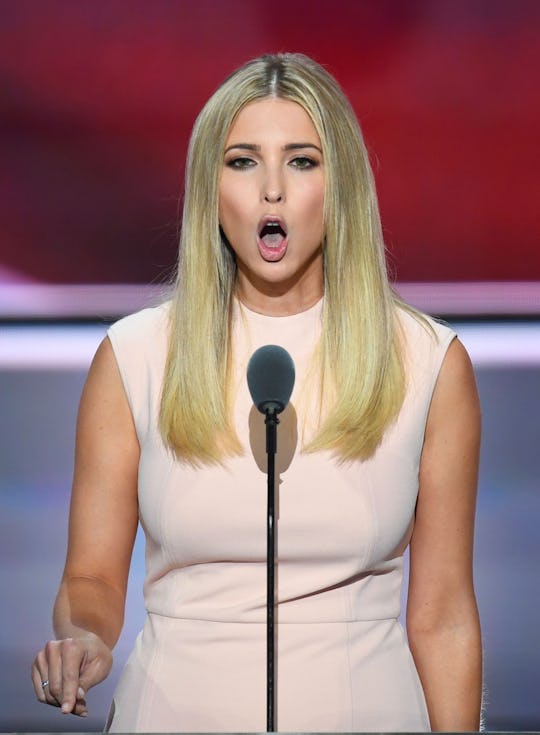 JIM WATSON/AFP/Getty Images
Have Donald Trump's Kids Spoken Out About His Tax Returns? Only 2 Have Commented
GOP nominee Donald Trump is known for not playing by the rules or conventions of the traditional presidential election. He has refused to release important plans about combating national security threats, questioned the legitimacy of democratic elections, and delayed the release of his tax returns — something every presidential candidate in recent history has released. Few of his supporters seem bothered by the lack of transparency, but what about his five children? They've been some of their father's biggest supporters, and according to CNN, some have even commented on Trump's delayed tax returns release.
After mounting pressure from the media and politicians, Trump's firstborn Donald Trump Jr. was asked about his father's taxes in September. He told the Pittsburgh Tribune-Review that his dad wouldn't release the information "because he's got a 12,000-page tax return that would create … financial auditors out of every person in the country asking questions that would detract from (his father's) main message," according to the Atlantic. Basically, Trump Jr. accidentally revealed why his father is refusing to release his tax returns. It's not because of an IRS audit, which has no effect on whether tax returns can be released, contrary to what Trump has suggested. Instead, Trump Jr. let slip that the real reason behind the delay was that the returns would create questions that would hurt the campaign. Trump's campaign hasn't responded to Romper's request for comment.
Important party members have suspected as much. Former presidential candidate Mitt Romney told Fox News that there might be something politically damaging in the returns:
I think there's something there. Either he's not anywhere near as wealthy as he says he is or he hasn't been paying the kind of taxes we would expect him to pay, or perhaps he hasn't been giving money to the vets or to the disabled like he's been telling us he's doing.
But another one of Trump's children disagrees. Eric Trump, the candidate's third oldest child, has said it would be "foolish" for his father to release tax returns while under audit, according to Politico.
"There is no tax attorney in the world who will tell you to release your tax returns while you're under a standard, routine audit. It would never happen. Anybody who thinks that is in La-La Land," Eric told CNBC. Eric has also said that he is the biggest proponent of his father not releasing his tax returns.
Trump's other three children have not commented on their father's tax returns. That includes Ivanka, who is arguably Trump's top surrogate. She has vehemently defended her father's record when it comes to women and gender equality issues, like employment and paid leave. In September, Ivanka did a series of speeches and interviews promoting her father's new policy proposals, which included six weeks of paid maternity leave and tax credits to offset childcare costs. However, she has been notably silent on the issue of her father's tax returns.
Trump's youngest Tiffany and Barron, 22 and 10, respectively, have not commented and have generally been absent from political discussions regarding their father.