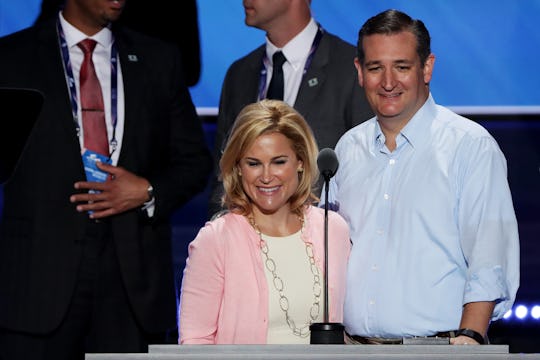 Alex Wong/Getty Images News/Getty Images
Heidi Cruz Was Heckled At The Republican National Convention & Everyone Should Be Ashamed
Let's face it — political conventions can get a little out of hand, but Wednesday night at the Republican National Convention was seriously out of control. Following her husband Texas Sen. Ted Cruz's speech (during which the senator failed to mention GOP nominee Donald Trump, save for a few precious times), Heidi Cruz was heckled by convention attendees as she made her way past the stands. And whether you agree with her husband or otherwise, you have to admit — it was a terrible, shameful move.
The initial report came in the form of a tweet posted by political reporter Graham Moomaw, who posted a video of Ken Cuccinelli, former Attorney General of Virginia, escorting Heidi Cruz past a chorus of angry commentary. "We want Trump," some of the audience members screamed. "Some taunted Heidi directly. "Goldman Sachs," a few yelled, referencing her time at the investment firm. Heidi currently serves as the firm's managing director, although as Bloomberg Politics pointed out, she took a short "leave of absence" to follow her husband's GOP campaign earlier this year. It's unclear whether Heidi has returned to Goldman Sachs as a regular employee yet.
This election so far has been an aggressive one in many aspects, and it's not the first time Cruz's wife has come under scrutiny by critical Trump supporters. Earlier this year, Trump himself even retweeted a man's post, which featured an unflattering photo of Heidi next to a glamorous photo of his own wife, Melania. "A picture is worth a thousand words," the text read. Trump refused to admit his mistake.
At this point in the campaign — especially following Wednesday night's heckling incident — perhaps Trump supporters and delegates alike would do well to remember the words of the party's legendary conservative champion, Ronald Reagan: "Live simply, love generously, care deeply, speak kindly, leave the rest to God."