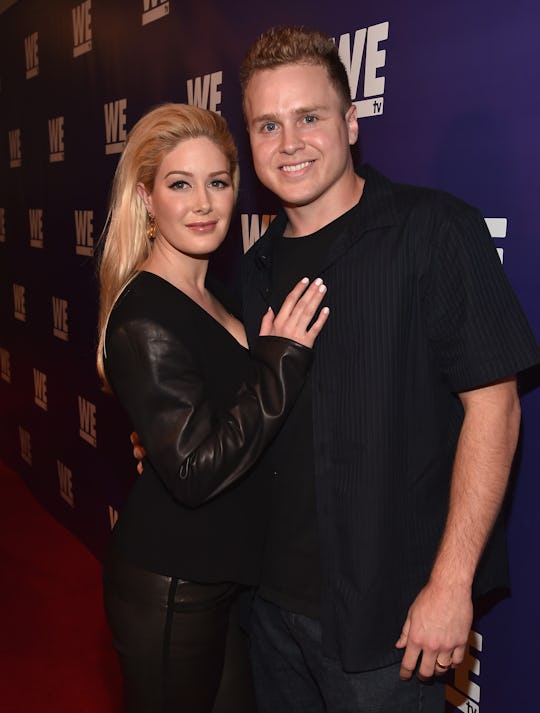 Alberto E. Rodriguez/Getty Images Entertainment/Getty Images
Heidi Montag's Breastfeeding Photoshoot Celebrates The "Powerful Experience"
Those of us who remember Heidi Montag from The Hills might find it surreal that she's now a mother who is posing for breastfeeding photoshoots. And yet, here we are. The 31-year-old mom of 3-month-old Gunner Pratt took to social media on Friday to share a glimpse into this aspect of her motherhood journey. Heidi Montag's breastfeeding photoshoot celebrates the "powerful experience," and her followers couldn't agree more.
The former reality star looks positively radiant in a photo she shared with her Instagram followers. People reported that Montag shared a snapshot of herself in a "boehmian-inspired" dress while breastfeeding her son. (Of course, the family's four dogs were there posing for the moment, too.) "The greatest joy and blessing in my life. My angel has taken me to a completely new and powerful experience," Montag captioned the powerful photo. "More love than I could have possibly imagined! I love, support, and appreciate women more than I ever have before. The strength and heart it takes every day. It has been more rewarding than I could have dreamed. God truly had made women to be extraordinary. Thank you for capturing this majestic moment @ivetteivens."
I mean seriously, how precious is that shot? The new mom looks stunning all snuggled up with her baby boy. The feedback from Montag's Instagram followers was overwhelmingly supportive and positive, too. "Your blissful joy is radiating from this shot," one Instagram user commented. Another person wrote, "You look beautiful! Nourishing your baby is beautiful and natural!" "This is gorgeous!!" yet another Instagram user chimed in. "So amazing to see how you have flourished as a momma. Keep up the amazing work!" It's clear both mom and baby have taken kindly to breastfeeding. And if this gorgeous photo doesn't convince you, Montag also took to Twitter on Friday, writing, "I love breastfeeding!"
And Twitter was totally there for it, as well.
Still, some of Montag's Twitter followers wondered how breastfeeding was even possible considering she had size F breast implants in 2010 and then had breast reduction surgery in 2013 to have them removed, reported People.
Except, according to KellyMom, silicone implants are considered compatible with breastfeeding. And according La Leche League International, it is possible to breastfeed after breast reduction surgery. (Each woman's experience varies, however, depending on a number of factors.) Montag's followers were quick to point all of this out to the naysayers.
Montag and her husband, Spencer Pratt, announced the pregnancy back in April, Us Weekly reported. "Heidi has wanted to be a mom since the day I met her," Pratt said. "She has planned for and thought about this." Montag confessed to the publication that she actually wanted a baby three years ago. "Spencer was a little hesitant," Montag said. "Then one thing after another came up. We had work obligations, like Celebrity Big Brother in the U.K., which I did not want to be pregnant for. I'm actually really thankful we waited. I thought I was ready in my twenties, but with everything we had going on, it just wouldn't have been a good situation for us." She continued:
It might never be the perfect time, so we said, Let's move forward. We had all these conversations. We're older, we have more life experience. Nothing is holding us back.
Little Gunner Stone Pratt made his grand entrance on Oct. 1, reported Us Weekly. Since then, he has been featured heavily on his parents' social media channels.
Full disclosure: I was always skeptical of Heidi and Spencer during the height of their reality stardom. (If you remember, they had ongoing feuds with Lauren Conrad, and Montag once had 10 cosmetic procedures in one day, reported People. Plus, in recent years, they seem oddly into the whole healing crystals concept, according to Business Insider.) With that said, I'm happy that Pratt and Montag seem happy after welcoming their first child — and that Montag has established such a special breastfeeding relationship with baby Gunner. (I know I wish I looked that elegant while breastfeeding!) Motherhood definitely looks good on this former reality star.
Check out Romper's new video series, Romper's Doula Diaries:
Watch full episodes of Romper's Doula Diaries on Facebook Watch.