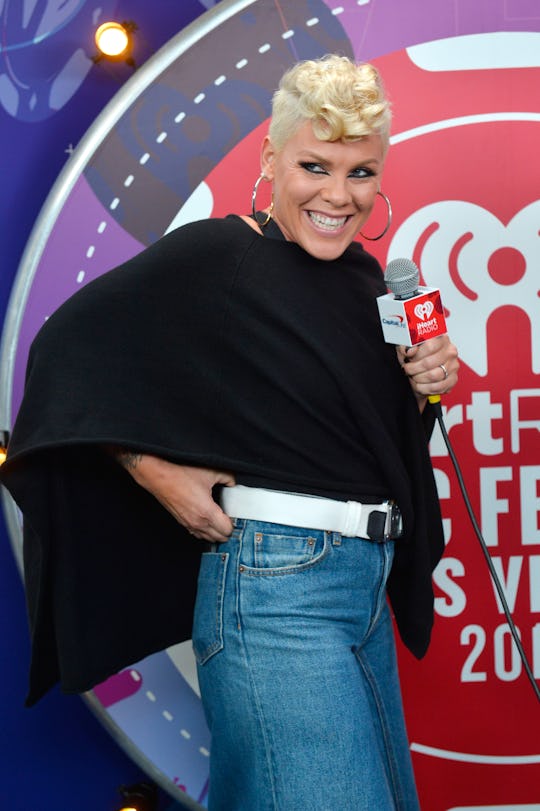 Bryan Steffy/Getty Images Entertainment/Getty Images
Pink Wore A Colorful Dress To The Grammys & People Had Some *Thoughts*
Pink always makes sure that her fans remember her at awards shows, whether its with her tearjerking acceptance speeches or killer performances. This year, though, it might be her fashion statement that has people talking the most. After walking the red carpet, Twitter has some thoughts about Pink's 2018 Grammy dress and they're not all exactly what we normally think of as compliments.
The dress was getting mixed reviews on social media, with fans either loving the feather and sequin look or totally dragging her for it. If anything, it looked pretty comfortable and weather appropriate, since this was the first time that the show's been broadcast from wintry New York City instead of Los Angeles. It actually looks pretty comfortable. But everyone's a critic, right?
Pink doesn't usually let the haters get to her, and looked confident as always as she walked the red carpet with her daughter, Willow. She's was nominated for one Grammy this year for Best Pop Solo Performance for "What About Us" and she's expected to perform. So there will be more chances to check out Pink's looks during the show, if she chooses to slip out of her comfy, fuzzy dress for her performance.
Twitter Is Hoping For A Change, I Think
Ouch, right?
Hopefully, she doesn't see all the mean things people are saying about her gown, because that could really ruin a woman's night. She had a theme going for sure, since she showed up the the Clive Davis Pre-Grammy gala on Saturday night in a bright red, faux fur coat. She's feeling the texture this year and frankly, I'm totally here for it.
Overall, Pink has won three Grammys and been nominated for 19. She tweeted earlier in the week that she was looking forward to the night and that the award show was "#someofthebestnightsofherlife." She shared an entire album on Instagram with all of her most iconic looks and performances.
Pink is one of those artists that seems to be able to do literally no wrong, even if some people think her dress looks like a Muppet or a feather duster. And her performances are always memorable, since she tends to work in a little trapeze and gymnastics every chance she gets. She also knows how to make a great speech. At the MTV Video Music Awards last year, she gave a beautiful speech about about confidence and self esteem, geared toward her daughter, Willow.
Her daughter had come home from school saying that she felt "ugly," which is a heartbreaking thing to year a 6-year-old say. Pink said:
But then I said, 'You know, I really wanna know why you feel this way about yourself.' And she said, 'Well I look like a boy,' and I said, 'Well what do you think I look like?' And she said, 'Well you're beautiful.' And I was like, 'Well, thanks. But when people make fun of me, that's what they use. They say I look like a boy or I'm too masculine or I have too many opinions, my body is too strong.'
Pink added:
And I said to her, 'Do you see me growing my hair?' She said, 'No, Mama.' I said, 'Do you see me changing my body?' 'No, Mama.' 'Do you see me changing the way I present myself to the world?' 'No, Mama.' 'Do you see me selling out arenas all over the world?' 'Yes, Mama.' 'OK! So, baby girl. We don't change. We take the gravel and the shell and we make a pearl. And we help other people to change so they can see more kinds of beauty.'
Hopefully, if her daughter hears or sees anyone mocking her mom's dress, she'll know to just ignore them. Because that's just how Pink rolls, whether you like her dress or not.
Check out Romper's new video series, Romper's Doula Diaries:
Watch full episodes of Romper's Doula Diaries on Facebook Watch.