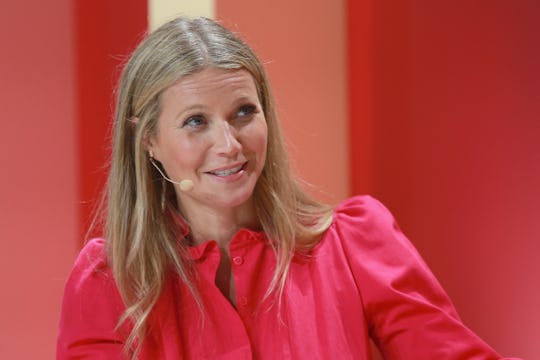 Rich Fury/Getty Images Entertainment/Getty Images
Gwyneth Paltrow Opened Up About How She "Broke Out" Of Postpartum Depression
Postpartum depression, also known as postnatal depression, has symptoms as wide and varied as it does treatments. Every woman's experience is unique and not every treatment method will work for every woman. Gwyneth Paltrow beat her postpartum depression via "alternative therapy," but there are a number of options for treatment.
On the special 10th anniversary episode of her podcast Goop, Paltrow explained that when she was suffering from postpartum depression 12 years ago, she decided to manage her symptoms without medication. "I had postnatal depression, as you know, after my son," she said. "A doctor tried to put me on antidepressants and I thought, if I need them, then yes, I'll come back to it."
She went on to explain that while medications like these are "lifesavers for certain people for sure," she wasn't ready to try medication just yet. "I thought, well, what if I went to therapy and I started exercising again, and I stopped drinking alcohol and I just gave myself a period of regeneration and I slept more? I really broke out of it," Paltrow said. The American Psychological Association reported that medication is typically the first treatment offered to moms with postpartum depression, but some researchers believe that therapy may be a better option to start with.
Dr. Christina Hibbert, founder of the Arizona Postpartum Wellness Coalition told the APA that therapy should be explored before resorting to medication. But because postpartum depression is often diagnosed by doctors little experience with the condition, many women end up taking medication that they don't need. Somewhat echoing Paltrow's statement, she said:
The medications absolutely do help, when needed. The problem has been that too often women are not given options other than medication. Many women do not want to take medication, especially if they are pregnant or nursing, and many might not need medication to be well, but feel they have no other choice.
Because of this, "many women end up on medications who wouldn't need them if they had a safe place to talk and receive coping strategies," Hibbert said.
If you suspect that you may be suffering from postpartum depression, receiving a diagnosis and treatment plan is important. Samantha Meltzer-Brody, MD, and Director of the Perinatal Psychiatry Program at UNC Center for Women's Mood Disorders told The Bump that when suffering women don't get treated, the problem can be amplified:
Untreated postpartum depression leads to really adverse consequences on maternal bonding and attachment, and maternal sensitivity to respond to her baby.
Therapy is an important part of that treatment, according to The Bump. Talking about what is going on helps moms realize that their problems are normal and that they are not alone.
Self, too, reported on the importance of getting help. Susan Benjamin Feingold, Psy.D., a licensed clinical psychologist who works with many women going through infertility treatments told the outlet that she uses a variety of tools in her postpartum depression therapy sessions. She focuses on the following principles of recovery:
Finding ways to heal (interventions), building hope and inspiration, spirituality (anything from meditation and yoga to attending church), and establishing one's narrative (by journaling or being more open with loved ones).
Like Paltrow, Self also recommended including exercise in postpartum depression recovery. Helen L. Coons, Ph.D., president and clinical director of Women's Mental Health Associates in Denver, Colorado, told Self that getting up and moving can have mood stabilizing effects. "We often educate the family that getting over this isn't just willpower," she said. "It really takes a village to support mom, baby, and family after the delivery."
Regardless of what method of treatment you choose, it is crucial that you do get help. A recent survey conducted by BabyCenter found that many women with postpartum depression do not seek any medical help at all. Of 1,400 mothers and pregnant women surveyed, 21 percent said that they were diagnosed with postpartum depression or suspected that they had it. But a shocking 40 percent of them did not seek help for their symptoms. If you are exhibiting any of the symptoms of postpartum depression, speak with your doctor about which treatment method is best for you.