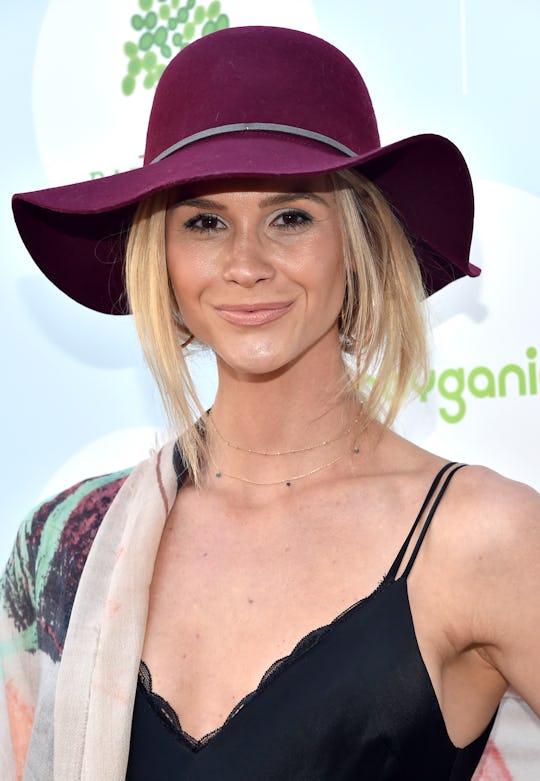 Alberto E. Rodriguez/Getty Images Entertainment/Getty Images
Meghan Edmonds Claims This Breastfeeding Hack Soothed Her Fussy Baby
Real Housewives of Orange County alum Meghan Edmonds welcomed twin boys into her family on June 5. And ever since the delivery, Edmonds has suffered a series of mishaps where it concerns breastfeeding. From a terrible case of mastitis to tandem breastfeeding struggles, Edmonds hasn't had it easy, to put it mildly. But just when you thought things couldn't get any tougher for Edmonds, her son, Hart, started exhibiting fussy behaviors. The good news? Shortly after Meghan Edmonds cut caffeine from her diet, Hart's demeanor "immediately" changed for the better. So, is there any truth to this breastfeeding hack? As it turns out, there are many conflicting opinions about this issue.
Similarly to other high-profile moms out there, Edmonds loves sharing updates and photos of her twin boys, Hart and Hayes, and her 1-year-old daughter, Aspen. And on Sunday, Edmonds took to Instagram to share an adorable shot commemorating Hart and Hayes' 2-months-old milestone.
"2 months! We smile sometimes, we love drinking dairy-free and caffeine-free mama's milk, we kick our legs, eat each other's hands, and sometimes sleep for a five hour stretch at night!" Edmonds captioned the sweet pic, according to Instagram. "(Shop outfits via link in bio) #hartandhayes."
Unsurprisingly, a lot of moms had questions about why Edmonds decided to cut out caffeine from her diet. While it's more common for breastfeeding parents to cut out dairy products from their diets because some infants are allergic to cow's milk, it's less common to hear about issues with caffeine.
So, why did Edmonds decided to nix caffeine from her diet? It seems like now would be the time for Edmonds to bulk up on the drink considering she has two twins to nurse throughout the night.
Apparently, Edmonds decided to forgo caffeine because she suspected it had a negative affect on Hart. "Hart was so active and awake one day when I had two cups of coffee - he was insufferable!" Edmonds wrote to a curious fan on Instagram. "So I cut it out the next day and the charge was remarkable and immediate."
Following Edmonds' admission, a lot of parents took to the post's comments section to share their experiences with the supposed breastfeeding hack.
"Good for you! I gave up dairy and babys eczema went away, gave up caffeine and he instantly started sleeping better," someone penned, according to Instagram. "It's hard but worth it."
Another fan added:
I had to go dairy and caffeine free with my twin boys too! So crappy 😴😴😴 butttt it made THEM so much happier so it was worth it. My boys are 7 months now and I've reintroduced caffeine (no problems for them now 🙌🏻) and some dairy seems to be okay for my one twin but the other not so much still 😞. Keep at it momma!! You're doing amazing!! And join the moms of multiples Facebook groups for support I swear at 3 am those moms were there for me when no one was around or understood. ❤️❤️☺️ yay twin mommas are the bees knees!!
One commenter chimed in:
I too am dairy and caffeine free I cut out dairy 3 weeks in and it's made a world of difference ... And Caffeine has always been a no for me in nursing, I feel like it just irritates the babies, although in small amounts it may not but over all it's a small sacrifice we make for our lovies!! Good job mamma!!
Others, however, had less success with the tip.
" ... I drank it a little bit too probably a cup of coffee every few days and my son was good with my caffeine intake but it's good to know for the future!" one fan wrote.
"How long did it take you to notice a difference in the babes after cutting caffeine?" a commenter chimed in. "I tried to cut it out but didn't notice a difference. Wondering if I waited long enough."
Similarly to the mixed comments, there are conflicting reports about the possible affect of caffeine passed through breastmilk. A study published in April 2012 found no "statistically significant"connection between fussy babies and parents' caffeine consumption, according to Health Day.
Additionally, some studies claim infants don't: "babies don't absorb caffeine the way older children and adults do," according to NPR, and that less than 1 percent of caffeine is passed through breast milk.
It's important to note, however, that each child and parent is different. If you notice a positive difference in your baby after cutting caffeine out of your diet, then it seems reasonable to continue. Do whatever works for you.
As for Edmonds, it looks like she plans to continue to restrict her caffeine intake for the foreseeable future, despite the fact that it's a really tough road. "Yeah it's ROUGH but they are too awake when I drink caffeine," Edmonds explained to a coffee-lover, according to Instagram. "I try to fake myself out with decaf coffee but it's just not the same."
The upside is Edmonds has two happy and healthy babies to see her through her caffeine-less days. Keep up the good work, momma.