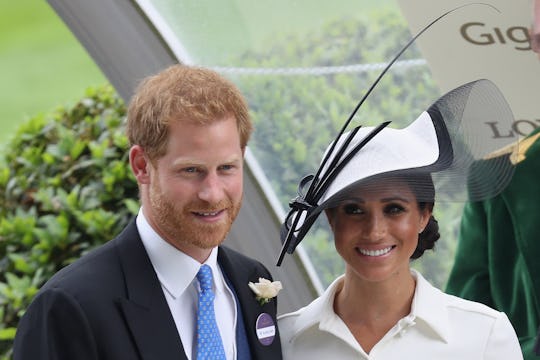 Chris Jackson/Getty Images Entertainment/Getty Images
Here's Why Meghan Markle & Prince Harry's Trip To Ireland Is A Big Deal
Just one month after Prince Harry, Duke of Sussex, and Meghan Markle, Duchess of Sussex, traded vows, Kensington Palace announced the couple's plans to visit Ireland in July. Meghan and Harry will tour Dublin on July 10 and 11, and they reportedly intend to check out fun landmarks while there, including Guinness' famous brewery, according to People. Of course, this trip is not just about beer and good times — Meghan and Harry will also make it a point to learn about Irish culture and Ireland's top leaders during their visit. But most importantly, Meghan Markle and Prince Harry's trip to Ireland confirms their status as a progressive couple unbound by tradition. As for why, look no further than England's very complicated history with Ireland.
While it would be totally understandable if Meghan and Harry took some time off following their highly publicized May 19 wedding, it's clear they're not interested in taking it easy for the time being. Case in point: A weeks after Kensington Palace confirmed Meghan and Harry's first official tour as a royal couple (they'll visit Fiji, New Zealand, etc.), the palace took to Twitter on Tuesday to announce their upcoming jaunt to Ireland. The statement read, according to ELLE:
The Duke and Duchess of Sussex will visit Dublin, Ireland on Tuesday 10th and Wednesday 11th July. This visit is at the request of Her Majesty's Government. The Duke and Duchess are looking forward to learning more about Ireland's history and experiencing its rich culture, as well as meeting the people who are shaping the country's future. Full details of the visit will be announced in due course.
On the surface, it might seem like this trip is no big deal. Ireland is England's neighbor, after all, and the rumored itinerary of the visit seems pretty standard. It's important to note, however, that this trip is anything but ordinary due to England's rocky history with Ireland.
Relations between England and Ireland became especially tense in 1922 after Ireland left the United Kingdom. While Northern Ireland is still a part of the United Kingdom, the rest of Ireland established itself as the Republic of Ireland. Unsurprisingly, there was a lot of strife in the years following this big political shift.
The relationship between England and Ireland hit another low point in 1979, when the Queen of the United Kingdom's cousin, Lord Mountbatten, was killed in an attack involving the Irish Republican Army, according to The Telegraph.
Following the attack, the Queen didn't visit the Republic of Ireland until 2011 — 58 years after the her coronation. The visit was deemed historic, and many applauded her decision to meet with Irish leaders.
During the Queen's visit, she issued an important statement about repairing England and Ireland's troubled past. The Queen said in a statement, according to the BBC:
... the ties between our people, the shared values and the economic, business and cultural links that make us so much more than just neighbors, that make us firm friends and equal partners ... To all those who have suffered as a consequence of our troubled past, I extend my sincere thoughts and deep sympathy. With the benefit of historical hindsight, we can all see things which we would wish had been done differently or not at all.
Given the Queen's efforts to restore relations between England and Ireland, it's no surprise she selected Meghan and Harry to go on this upcoming trip. Meghan and Harry's relationship has already brought so many people together, and their marriage represents the melding of different backgrounds. It's safe to say Meghan and Harry will further cement the good will between Ireland and England during their visit.
So, here's to Meghan and Harry's upcoming trip to Ireland and the couple's progressive actions. It's obvious Meghan and Harry are committed to change and bettering England's relationships across the board.