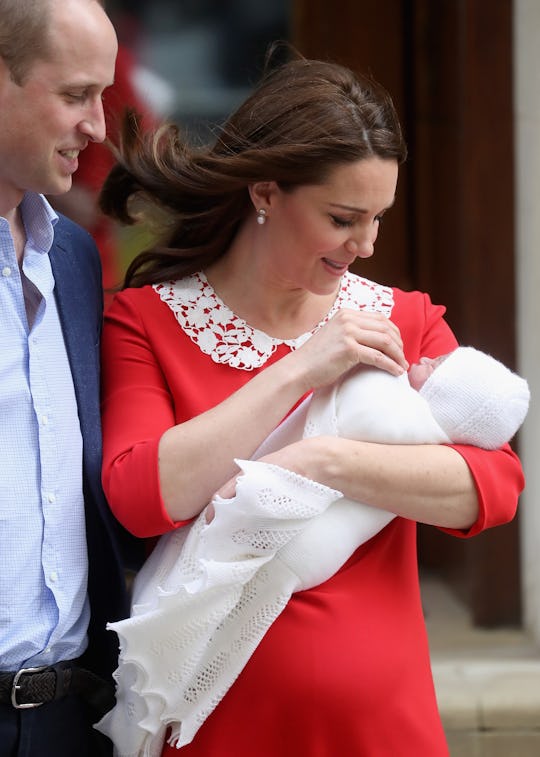 Chris Jackson/Getty Images Entertainment/Getty Images
This Might Be The Real Reason The Royal Baby's Name Hasn't Been Released Yet
On Monday, Prince William and Kate Middleton welcomed their third child together, a son, at 11:01 a.m. London time. Hours after delivering, William and Kate made their traditional appearance outside of the Lindo wing at St. Mary's Hospital, and the palace released some other information, including his length and weight. However, in the four days since the baby's birth, one important detail has yet to be shared. According to new reports, this is why the royal baby's name hasn't been released yet, and parents will totally get it.
People reported on Thursday that the baby's name likely hasn't been shared with the public because he has yet to meet all of the members of his immediate family. Specifically, the new baby has yet to meet his grandfather, Prince Charles. The report stated he had to travel to France this week for the commemoration of Anzac Day, and has yet to return to London. Despite not having met the new baby yet, Charles and his wife Camilla released a statement welcoming the new prince, People previously reported, saying the following: "We are both so pleased at the news. It is a great joy to have another grandchild, the only trouble is I don't know how I am going to keep up with them."
Some had been speculating that the baby's name was supposed to be revealed on Wednesday, given that both George and Charlotte's names were released two days after their births, The Sun reported. However, given the circumstances with Prince Charles, it might make sense. Most people want to share big news with those closest to them so their loved ones don't have to hear about it through the media (or in the case of the rest of us commoners, social media). Though there is no stated rule that the Prince must meet the baby before the name is revealed, it may just be a matter of courtesy, which the royals are, uh, pretty big on if nothing else.
People have been taking bets on what Kate and Prince Charles would name the baby since the couple first announced her pregnancy. Now with the baby's sex revealed, HuffPost reported that the following names are top contenders for the new little prince:
Arthur (5-1 odds)
James (8-1 odds)
Albert (10-1 odds)
Frederick (16-1 odds)
Philip (16-1 odds)
However, as of Wednesday, Prince William may have given the world a hint about what the baby's name could be. HuffPost reported that during an appearance Wednesday morning in France, Australian high commissioner Alexander Downer joked with Prince William that "Alexander" would be a great name for the new prince. William replied: "Funny you should say that," sparking rumors that he had actually predicted the name correctly.
Though Prince Charles has yet to meet his new grandson, the rest of the royal family visited Kate and the new baby hours after his birth. Harpers Bazaar reported that Prince William escorted Meghan Markle into St. Mary's to visit the new baby, while People reported that Pippa Middleton, Kate's sister, made an appearance as well.
The other royal children, Prince George and Princess Charlotte, made headlines for a mischievous moment between them as they entered the Lindo wing on their way to meet their new little brother. Mirror reported that upon close inspection of some video footage, it's clear that George may have flicked Charlotte's head as they walked inside (typical big brother stuff, you know?)
Though it is unknown at this point in time when Prince Charles is expected back in London, and whether the baby's name will actually be released after the two meet, what the world can know for sure is that it's only a matter of time until the news is revealed at last.
Check out Romper's new video series, Bearing The Motherload, where disagreeing parents from different sides of an issue sit down with a mediator and talk about how to support (and not judge) each other's parenting perspectives. New episodes air Mondays on Facebook.