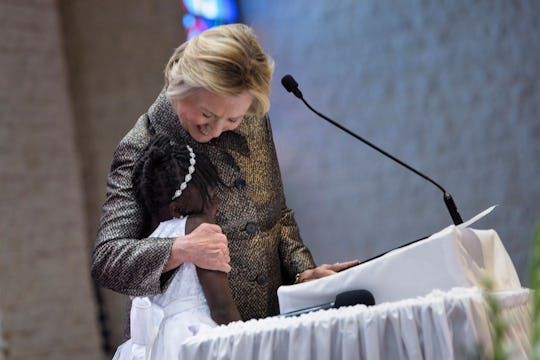 BRENDAN SMIALOWSKI/AFP/Getty Images
Hillary Clinton Quotes Zianna Oliphant & Speaks Out In Support Of Black Grandmothers
Six days after the fatal police shooting of Keith Lamont Scott, a 9-year-old girl stood up in front a crowd at a Charlotte City Council meeting. Zianna Oliphant spoke to her neighbors, city officials, and Charlotte police offers about her experience being a black child. "It's a shame that our fathers and mothers are killed and we can't see them anymore," she said with tears in her eyes. "It's a shame that we have to go to their graveyard and bury them. We need our fathers and mothers by our side." Zianna's emotional plea captured the attention of people from across the country, including Democratic presidential nominee Hillary Clinton. The former Secretary of State made a campaign stop in North Carolina on Sunday, speaking in front of a black congregation. During her speech, Clinton quoted Zianna Oliphant and offered her support to black grandmothers.
Clinton speaks often and fondly of her own grandchildren, Charlotte and Aidan. Throughout her campaign, the presidential nominee has shared anecdotes about the time she spends with her grandchildren. While making an appearance on The View, she revealed how excited she was that Charlotte had started to call her Grandma. Former President Bill Clinton, his wife revealed, now goes by "Pop-pop." It's evident that being a mother, and now a grandmother, is a crucial aspect of Clinton's identity.
During her stop in North Carolina, Clinton told the crowd that "like every grandmother, I worry about the safety and security of my grandchildren. But my worries are not the same as black grandmothers, who have different and deeper fears about the world their grandchildren face."
Clinton touched on the disparity between a white child and a black child's experiences growing up in America. White Americans, including Clinton's grandchildren, are afforded an inherent privilege based solely on the color of their skin. "Because my grandchildren are white," Clinton told the crowd, "because they are the grandchildren of a former president and secretary of state — let's be honest here: They won't face the kind of fear that we heard from the young children testifying before the city council."
Zianna Oliphant was one of those children. She joined Clinton on stage during her remarks. Instead of the devastated young girl America was first introduced to, Zianna was grinning from ear to ear as she hugged Clinton. It's definitely safe to say that Zianna is with her, and that Clinton is with Zianna.
After Keith Lamont Scott's death, according to CNN, Clinton addressed the shooting by making a similar to plea to Zianna's. "We have two more names to add to a list of African Americans killed by police officers in these encounters," Clinton said to an Orlando crowd, "It's unbearable. And it needs to become intolerable. I know I don't have all the answers. I don't know anyone who does. This, though, is certain: Too many people have lost their lives who shouldn't have."
Clinton has made fighting systematic racism an integral part of her campaign. She has worked with Mothers of the Movement, a group of women who have lost their children to fatal police encounters. She wants to reform America's flawed gun control laws, as well as invest more money into police departments so that they combat systematic racial biases.
Clinton's message on Sunday was one of unity. She wants to see America become "stronger together with this common vision." That common vision is a better, safer world — not only for her grandchildren, but for everybody's grandchildren.