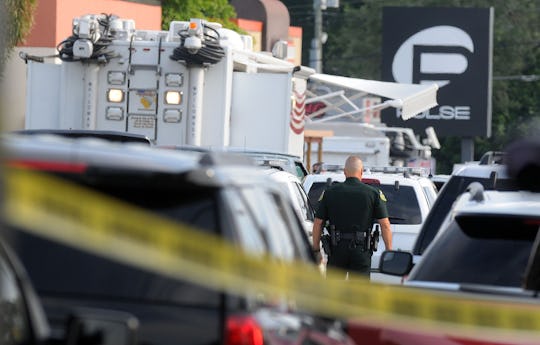 Gerardo Mora/Getty Images News/Getty Images
Hillary Clinton Responds To Orlando Nightclub Shooting, Echoes Our Collective Heartbreak
The country woke up to the devastating news that a massive shooting at a well-known gay nightclub in Orlando, FL left 50 dead and 53 injured. At 2 a.m. the suspect, who has now been identified as Omar Saddiqui Mateen, opened fire inside Pulse nightclub, committing what local authorities have since described as an, "act of domestic terrorism." The suspect was shot and killed by members of a local SWAT team, and the FBI is now working with local law authorities in their ongoing investigation.
(Update: The FBI has updated the death toll to 49 victims. The shooter was also killed.)
Presidential hopefuls took to twitter, reacting to the devastating news. Hillary Clinton responded to the Orlando Nightclub shooting in a way many have come to expect; with sadness and extended thoughts to those affected by another senseless act of gun violence. As of now, little is known about Omar Saddiqui Mateen, the deceased suspect responsible for the tragic loss of life. Mateen is a United States citizen from St. Lucie County, FL and was described by local authorities as "well organized and prepared." However, Mateen targeting a gay nightclub during Pride month, leads many to believe that this was a calculated hate-crime, targeted at the LGBT community. While the investigation is ongoing and more information remains to be seen, the LGBT community and the entire country have the connectivity of social media to voice our overwhelming heartbreak, our solidarity and our need for gun control.
Update: Clinton released a statement following her tweet about the attacks, calling it an "act of hate." See her full statement below.
Clinton's reaction is a start contrast from that of her republican presidential counterpart. Donald Trump was the first to tweet about the horrific shooting, calling it a "really bad shooting" and pointing out that "many people" were "dead and wounded."
An hour and a half later, Trump tweeted out another attack at Hillary Clinton, seemingly back on the campaign trail and no longer upset about the "really bad shooting" or the fact that it's a "possible" act of terrorism.
I, personally, mirror Clinton's sentiments, and extend my deepest condolences and sincere thoughts to all those affected.
This story is developing...