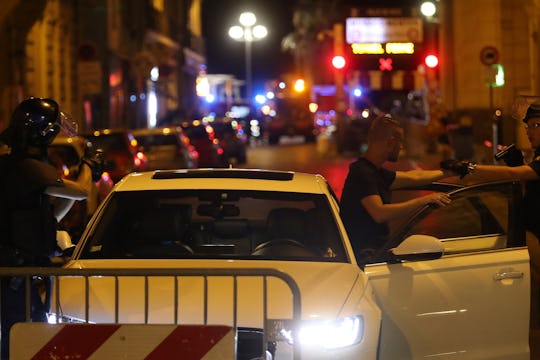 VALERY HACHE/AFP/Getty Images
Hillary Clinton Responds To The Bastille Day Crash, Urging Caution
On what should have been a celebratory day, a driver of a truck intentionally rammed into a crowd at a Bastille Day celebration in Nice, France, killing a reported 80 people according to French President Francois Hollande. While the world begins and continues to mourn another senseless act of devastating violence, politicians are taking to twitter to voice their heartbreak and solidarity. Hilary Clinton responded to the Bastille Day crash, calling the horrific incident a, "horrific attack" and saying that, "We are at war with these terrorist groups... We need to be smart about how we wage it and win it."
Update: French President Francois Hollande announced Friday that the death toll had risen to 84 and at least 50 people were in critical condition "between life and death," according to ABC News.
After sending out a solidarity tweet from an unverified account, stating, "Our hearts go out to those affected by the horrific attack in Nice and their families," the former Secretary of State and presumptive Democratic presidential nominee spoke with CNN via phone, denouncing what is now being called a terrorist attack and saying that, "It is clear, um, we, we are at war with these terrorist groups and what they represent. Um, it's a different kind of war." Clinton went on to say, "We need to look at all possible approaches," when considering how we wage and win a war against global terrorism.
More to come...