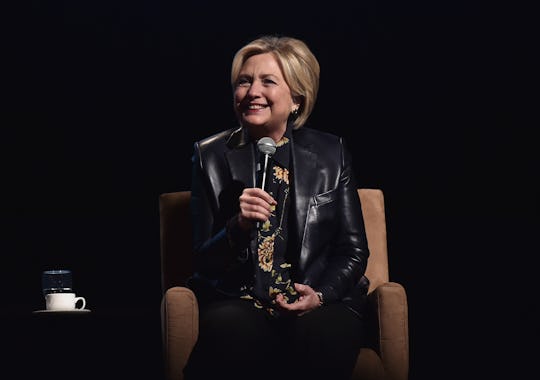 Alberto E. Rodriguez/Getty Images Entertainment/Getty Images
Hillary Clinton's Cameo At The Grammys Has Twitter Absolutely Screaming
Talking about politics anywhere is unavoidable at this point — even at the 2018 Grammy Awards. Of course, host James Corden had to make a joke at the expense of President Trump, and in one of the most surprising moments from the night, 2016 Democratic Presidential nominee Hillary Clinton showed up, too. In the ripest instance of life feeling like a reality TV show, Clinton's cameo at the Grammys has Twitter cracking up.
During the bit, Corden had different celebrities audition for the recording of the latest book written about the Trump administration, Fire and Fury, by Michael Wolff. Celebrities like Cardi B and John Legend were among those to audition for Corden, but the person who did the best job was Clinton. As she sat in the audition chair for Corden, she did her best job at imitating an audio book reader and attempted to narrate the very funny and blunt book about the inner workings of Trump's White House.
People took to Twitter to share their thoughts about the very hilarious moment. Reactions ranged from, essentially, "HOO BOY" to "shade ahead." And then there were those of us simply glad to see Clinton had come out of her "hiking the woods in disbelief" phase. Knowing the president hates being made fun of, hates Hillary Clinton, and loves Twitter, the skit, and subsequent eruption of sassy tweets, created quite the 1-2 punch.
The time for eloquence and poise was over, as people freaked out on their keyboards:
For some, there were subtle reminders of the time Hillary Clinton absolutely smoked Donald Trump at the Al Smith dinner in 2016.
And yes, Best Spoken Word Performance is an actual category won by the people you would least expect. This award is typically given out for the best recording of an audio book. It is hard to think about how Grammy voters could pick the best performance of someone reading their own book, but there is also a reason why I'm not a Grammy voter.
In the bit, Corden had Clinton read a choice line about Trump's eating habits (because that topic has generally proven riveting) from Wolff's book. Clinton read, according to the Hollywood Reporter:
"One reason why he liked to eat McDonalds: Nobody knew he was coming and the food was safely pre-made."
If that doesn't say something about our president, then I don't know what does. Corden then interrupted Clinton in the bit, telling her she got the job. Because really, no one else would be able to read the book with so much passion and a sense of inspiration other than Clinton herself. She really is the perfect candidate.
Don't forget, she went to Wellesley.
Another reason that makes her the prefect candidate for the job? The fact that she actually won a Grammy Award 20 years ago in 1997 in that same spoken word category.
In 1996, according to HuffPost, Clinton published a book, It Takes A Village where she wrote, as the then-First Lady, about her goal to make children become "smart, able, resilient adults." Clinton wore the most fabulous gold dress to accept her award and even got to give an acceptance speech, according to The Telegraph. "I didn't even know that people who couldn't sing a note and were tone deaf were eligible for any Grammys," Clinton hilariously said of her win, at the time.
Since then, other politicians have gone on to win for their spoken word performances. Barack Obama, Jimmy Carter, and even Clinton's husband, Bill Clinton all won in the same category. This year, Carrie Fisher won the award for best spoken world album posthumously for her book, "The Princess Diarist," according to Variety.
Although Trump or Clinton cannot win at this Grammy's for the spoken word category, there is plenty of time for both of them to put themselves in the race for next year's Grammys. But something tells me that after seeing this skit, Trump will want nothing to do with the Grammy Awards next year.
Disclosure: Hillary Clinton's son-in-law Marc Mezvinsky joined Social Capital, an investor in Bustle Digital Group, in mid 2017 and joined the Board of Bustle Digital Group in early 2018.
Check out Romper's new video series, Romper's Doula Diaries:
Watch full episodes of Romper's Doula Diaries on Facebook Watch.