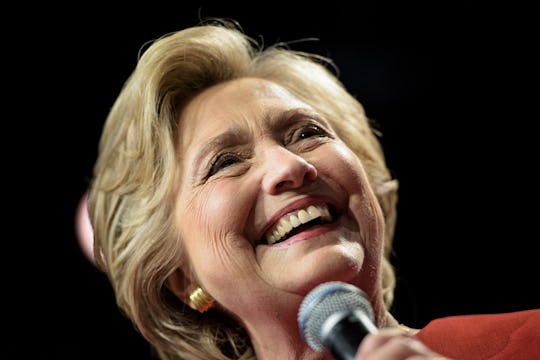 BRENDAN SMIALOWSKI/AFP/Getty Images
Hillary Clinton's Letter To This Little Girl Will Completely Warm Your Heart
Everyone needs to put their political bias aside for a few minutes and just love the heck out of this letter Hillary Clinton sent to a little girl. Although the Democratic nominee is being lauded and critiqued for her performance in Monday night's first presidential debate against Republican nominee Donald Trump, Clinton's team is also on-point with the inspirational message contained in the candidate's note. According to Scary Mommy, a 7-year-old girl told her mom that she wanted to change her name to "Lillary" and wrote a message in a "contact us" form on Clinton's campaign website outlining her own goals of becoming a world leader.
But instead of a form response or some silly letter that was obviously mailed in bulk to supporters, Jennifer Rosen-Hein received a real piece of personalized mail, addressed to her daughter. The letter from Clinton read, "I know it might seem like a lot now, but as you grow and search for your own place in this world, I hope you will consider how you can make your voice heard. Speak your mind in your classes, and in meetings once you have a job." Although Rosen-Hein said her daughter took the letter in stride, it was nonetheless thrilling for her to receive the type of message all little children hope to obtain from their idols.
Who couldn't use a little career advice now and again from a presidential candidate? The message in the letter goes way beyond party lines. The note reads as if the candidate had written herself and, even if it wasn't, and it's totally in line with the message that the Clinton campaign has been trying to sell to voters — especially female ones.
During Monday night's debate, Clinton opened up by talking about her role as a mother and grandmother and wanting more "the future." Towards the end of the first debate, Clinton went all in on attacking Trump, given his comments about women in the past. The Democratic nominee focused on pointing out that Trump has disparaged women in the past, calling them "pigs" or "slobs." Clinton finished by saying that the Republican nominee was "someone who has said pregnancy is an inconvenience to employers, who has said women don't deserve equal pay unless they do as good a job as men."
If talking to women is an election cycle tactic, so be it. Because Clinton is consistent when it comes to thinking about how women are received in the working world — and her letter to 7-year-old "Lillary" shows how dedicated the candidate and her team is to honoring their efforts and achievements.