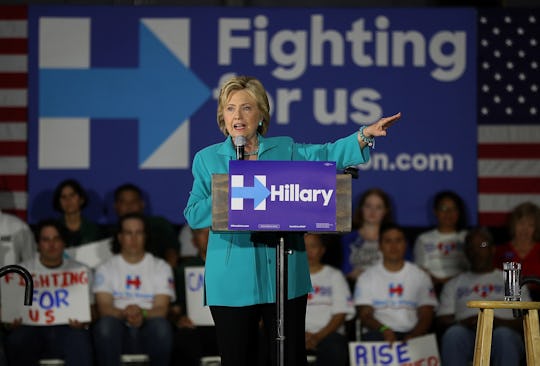 Justin Sullivan/Getty Images News/Getty Images
Hillary Clinton's Running Mate Won't Be Elizabeth Warren, & Here's Why
The big California primaries are just two weeks away, and Democratic candidates Hillary Clinton and Bernie Sanders, are each hoping to win big, with Sanders trailing Clinton in pledged and superdelegates. But as the primary elections progress, news surrounding the candidates' choices for their running mates continue to gain traction. One name that's been increasingly connected to Clinton is Massachusetts Sen. Elizabeth Warren. Many are wondering if Clinton would consider Warren, a liberal democrat, who has an apparent like-mindedness and overlap of support and respect from Sanders supporters. But Clinton's running mate won't be Warren if Clinton agrees to this particular line of thinking. It's a complicated situation for sure.
In a recent interview with MSNBC's Joy Reid, the Democratic Senate leader, Nevada senior Sen. Harry Reid, said "hell no," to the notion of Clinton choosing from a select pool of Democratic senators – which includes Warren, for one very important reason.
According to the National Conference of State Legislatures website, 14 states in the United States hold special elections to fill vacancies in the Senate. For a number of those states (the rules vary), the governor temporarily fills the vacant seat until the special election happens. Here's why that matters in Warren's case: the Massachusetts governor is a Republican, and the special election wouldn't be held until 2017 or 2018, The Atlantic reported. It's possible that if Clinton were to win the general election, and, with Warren by her side, the Democrats could lose a seat in the Senate. And as The Atlantic pointed out, the same could occur if Clinton won and selected other Democratic senators, like Corey Booker and Sherrod Brown, who hail from New Jersey and Ohio respectively. New Jersey and Ohio are of the 36 states where a governor makes an appointment – but unlike Massachusetts, there's no special election, and the appointee serves until the next statewide general election.
It's clear why Reid expressed his concerns for the Democrats in the Senate, which is currently led by Republicans.
"If we have a Republican governor in any of those states, the answer is not only no, but hell no," Reid said on MSNBC. "And I would do whatever I can – and I think most of my Democratic colleagues here would say the same thing... " He continued, "I would yell and scream to stop that."
Only time will reveal the candidates' choices for their running mates. The New York Times reported last month that Clinton's camp was looking to compile a list of 15 to 20 potential vice presidential picks. In the meantime, Warren has been on Twitter consistently calling out the presumptive Republican nominee, Donald Trump, for his stances on policies like, minimum wage, and his campaign messages fueled with racism, sexism, and xenophobia.