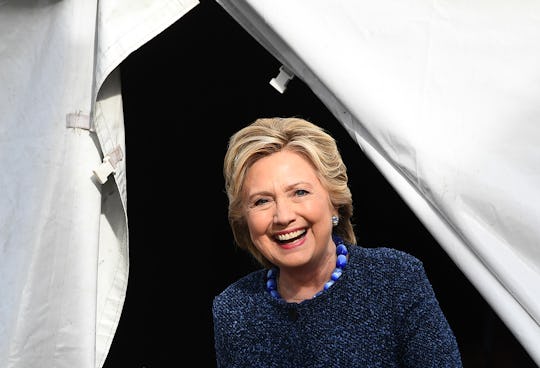 JEWEL SAMAD/AFP/Getty Images
Hillary Clinton's Statement About The Email Investigation Is Important To Hear
Just hours after FBI director James Comey announced that the FBI is reviewing new emails pertaining to Hillary Clinton's email server, Democratic Party presidential candidate Hillary Clinton stood in Des Moines, Iowa. It was there where she gave her first statement to American voters. With just 11 days left until the election, Hillary Clinton's statement about the email investigation is so important for voters to hear — because she is just as confounded by Comey's new investigation as the American public.
The full statement can be read below:
I have now seen Director Comey's letter to Congress. We are now 11 days from perhaps the most important national election of our lifetimes. Voting is already underway in our country. So the American people deserve to get the full and complete facts immediately. The director himself has said that he doesn't know whether the emails referenced in his letter are significant or not. I'm confident, whatever they are, will not change the conclusion reached in July. Therefore, it is imperative that the bureau explain this issue in question — whatever it is — without any delay. So I look forward to moving forward to focus on the important challenges facing the American people, winning on November 8th, and working with all Americans to build a better future for our country. Thank you.
A lot happened in the latter half of Friday, so here is a little refresher. What Clinton was referring to was FBI director James Comey's letter to Congress addressing new emails found pertaining to the Clinton email investigation. According to the letter, Comey claims that new emails have been found that are "pertinent to the investigation." Because of this, Comey plans on taking steps to review those emails to decide if they're important to the investigation — although Comey recommended no charges for Clinton for her emails back in July. In the letter released Friday, Comey claims he can not determine how, or even if, this new material will be significant to the investigation.
But Clinton's statements about this investigation is so important for the transparency of her campaign, undecided voters, and decided voters alike. It shows that even Clinton thinks that Comey's statement is a little unclear and leaves a lot to be desired. What we do know about how the new emails were found has not come from Comey and his letter but law enforcement officials instead, according to The New York Times. Clinton is right in saying that the American people deserve to know the truth — and not be left feeling unclear about the situation, especially as they head to the polls to cast their vote. It is important for the Clinton campaign to have all of these new findings released immediately — Clinton is just as in the dark as the American people are. According to the press conference after Clinton's statement, Clinton and her team had not been contacted by anyone prior to the release of Comey's statement.
As millions of Americans head to polling stations this week to cast their ballots for president during early voting, answers and transparency from the FBI and the Clinton campaign will be so important for the outcome of this election.