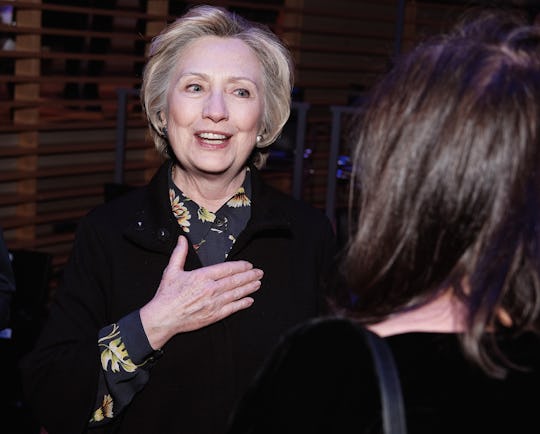 Theo Wargo/Getty Images Entertainment/Getty Images
Hillary's Super Bowl Tweet vs. Donald's Says A Lot
I don't know about you, but I'm ready to read tweets from just about anyone other than President Donald Trump these days. For real. And since Super Bowl 51 seems to be the Night of the Tweet, I've been waiting in trepidation for Trump to hit us all with one of his rants. But before we hear from him, let's take a moment to consider Hillary Clinton's Super Bowl tweet vs. Trump's tweet. Because I just miss her, ok? I miss her.
And you know who else probably misses her? Lady Gaga. She was a big supporter of Clinton during the 2016 presidential election, according to The Hill. Unfortunately, we know all too well how that story turned out. Gaga certainly did her part for Clinton, performing at several rallies and throwing her Mother Monster weight behind the Democratic nominee. Clearly, the admiration was mutual. Clinton, who has been taking some time to go for contemplative walks in the woods as of late, resurfaced on Twitter to praise Gaga's jaw dropping Super Bowl halftime performance. Because yes, obviously.
Clinton wasn't the only politician to take to Twitter to praise Gaga; fellow sexual assault awareness advocate and former Vice President Joe Biden also tweeted his appreciation.
Of course, Trump had something to say about the Super Bowl.
So here's what I get from that; "Everyone, you only get to take one night off from my personal gong show. Enjoy. For now... " But that could just be me, of course.
Trump was interviewed by Bill O'Reilly on The O'Reilly Factor for the traditional pregame presidential interview (where he waxed poetic about how much he respects Russian President Vladimir Putin, naturally), and predicted the New England Patriots would win. It felt like he was wrong, for sure. Particularly considering the Atlanta Falcons were leading 21-3 at the halftime. It really did seem like the Falcons would win, like we could all relax. Take our eye off the prize for a moment and celebrate a guaranteed outcome.
Heck, Trump even left his Super Bowl viewing party when it looked like the Patriots would lose. And then, in the last few minutes of the fourth quarter, something happened. The Patriots tied the game and went on to win in overtime. Nobody saw it coming.
Sound familiar?