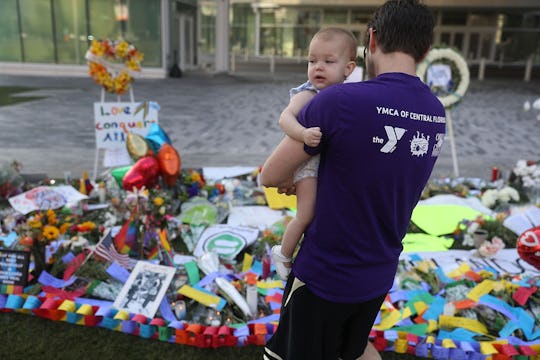 Joe Raedle/Getty Images News/Getty Images
How Can You Support Orlando Victims If You Don't Live In Orlando? Here's How You Can Help
The one bright spot in the aftermath of the devastating shooting over the weekend at downtown Orlando LGBTQ nightclub Pulse has been the outpour of support to victims, their families, and community members. On Sunday morning, a gunman entered the nightclub and opened fire, killing 49 people and wounding 53 others in what many have called one of the worst mass shootings in United States history. But even as the country heals from the shock of yet another gun tragedy, volunteers have mobilized support for victims in the form of blood drives, monetary donations, candlelight vigils, and advocacy for tougher gun control policies. And even if you don't live near Pulse — or in Orlando, for that matter — there are plenty of ways to support Orlando shooting victims.
Officials are still piecing together the motives that led to a local man entering the crowded nightclub early Sunday morning and taking dozens of people hostage before being killed by police. According to ABC News, the FBI is investigating whether the gunman, 29-year-old Omar Mateen, was a regular at Pulse or frequented the popular Orlando night spot in the time leading up to the massacre. According to that same report, Mateen's father said his son was motivated by a hatred of gays.
"Although it is still early in the investigation, we know enough to say that this was an act of terror and an act of hate," said President Obama in a statement from the White House earlier this week. Obama went on to call on Americans to "stand united" and "take action against those who threaten" the United States, according to a Reuters report.
And it's clear that some are taking that call to action to heart as people in Orlando — and, indeed, across the rest of the country — are reaching out to victims, survivors, and families to support healing over hate. Here are some of the ways that you can help Orlando, even if you don't live nearby.
Your Donated Blood Could Still Help Orlando Shooting Victims
The massive number of gun injuries created an immediate need for blood donations for shooting victims. According to a CNN report, Orlando's local blood bank, OneBlood, filled all its blood donation needs on Sunday (the day of the attack). Still, a representative for the organization told CNN that donations from rare blood types — O negative, O positive, and AB — will be crucial to meeting local hospital needs over the coming days.
But if you don't live in Orlando, donating to your local Red Cross could still help Orlando victims. According to the Red Cross website, donations are stored for up to 42 days and are often shipped nationwide to support hospitals in need. While donors can't request that their blood go directly to Orlando hospitals, there's a decent chance it will, as resources go to any city struggling with a massive need and blood shortage.
Equality Florida Has Organized A Massive GoFundMe Campaign For Victims & Families
Certainly, the mass shooting means an emotional cost to the families involved, but there are monetary costs, too: medical bills, lost wages, last-minute travel for family members, and even funeral and burial expenses could easily tally up in the thousands. Equality Florida, the state's largest LGBTQ rights group, has organized a GoFundMe campaign to help survivors and victim's families to deal with the unforeseen financial burdens after the tragedy. With just over $2 million raised so far — $1 million of which was raised in less than 10 hours — the campaign is already the largest in GoFundMe history, according to CNN. The group has reportedly set a new goal of raising $5 million for Orlando shooting victims.
Participating In Vigils Shows Survivors They Aren't Alone
What's disturbingly clear in the aftermath of the shooting is that the victims were targeted because of homophobia and hatred. And, as LGBTQ clubs have historically served as "safe spaces" for those fearing anti-gay violence, the attack has resonated in multiple ways throughout Orlando's gay community, according to a statement posted on the Equality Florida website. Whether supporters identify as members of the LGBTQ community or not, showing support is crucial to helping others heal. People have gathered in multiple cities at vigils in honor of those who died at Pulse and to show solidarity with the survivors. Equality Florida has organized a list of vigils happening across the country on its website. WeAreOrlando.org has also posted a list of community vigils people can attend.
Supporting Local Counseling Organizations Will Help The Community To Heal
Finally, people in Orlando's LGBTQ community who might be dealing with the trauma of surviving a gun tragedy, or family members and friends grieving the loss of a loved one, could find they need mental health support or just someone to talk to in the healing process. In addition to encouraging local survivors to seek professional support to heal after the Orlando shooting, those trained in mental health and crisis counseling can help by donating time to the GLBT Center of Central Florida or working as a chat- or text-based counselor for The Trevor Project.