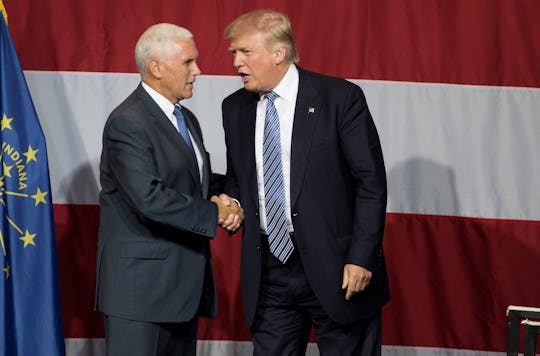 TASOS KATOPODIS/AFP/Getty Images
How Did Donald Trump & Mike Pence Meet? Trump's Frantic VP Search Brought Them Together
On Thursday, Roll Call reported that Donald Trump would choose Indiana Gov. Mike Pence as his running mate and would-be vice president should he win the 2016 election. But how did Donald Trump and Mike Pence meet? It seems that they had little interaction with each other before Trump began screening for potential running mates.
UPDATE: Trump confirmed Pence as his vice presidential running mate in a tweet Friday morning and said he would host a news conference on Saturday.
According to a New York Times report, it seems that Trump and Pence weren't really familiar with one another prior to Trump's VP vetting process. The Times reported that Trump's advisors were enthusiastic about Pence as an option because he's safe and might help Trump win over conservatives in the Midwest, where he is falling behind former Secretary of State and presumptive Democratic nominee for president, Hillary Clinton. But, despite their approval, the Times reported that "Mr. Trump has so far given no particular signal of public enthusiasm for Mr. Pence."
And why would they be? If one thing has become clear throughout Trump's campaign, it's that he isn't really familiar with Washington's faces or with current events — and that's part of his appeal within the national movement against establishment candidates. (For example, during a Republican debate, Trump said that China uses the Trans-Pacific Partnership to exploit the U.S. and benefit from the U.S. economy. But Kentucky Sen. Rand Paul pointed out that China isn't even a part of the TPP. Trump was literally blowing smoke.)
Pence reportedly visited the Trump family this week, according to the Times, but so did Newt Gingrich and Alabama Sen. Jeff Sessions. Jason Miller, Trump's senior communications advisor, tweeted the following statement after Roll Call broke the news that Pence would be Trump's running mate:
That kind of terse response looks a bit strange. It's seems to me, if Trump were particularly on board with Pence as the pick, wouldn't he rally behind him after news like this broke instead of trying to silence it? It's looks especially suspicious since a source reportedly told CNN on Wednesday that Trump's "gut" was telling him to pick New Jersey Gov. and loyal Trump "manservant" Chris Christie.
Trump is big on loyalty, and it seems strange that Trump would choose a man who he doesn't know very well (Pence) over other people who have sworn their support of him from early on (Christie or Gingrich). Additionally, Pence and Trump's platforms are very different, but that is likely what made him so attractive to Trump's advisors. He could win over the Christian right while also getting someone on board with policy experience and newsworthiness (Pence was very talked about after passing Indiana's religious freedom law). Now, everyone's just waiting on Trump to confirm the tip tomorrow.