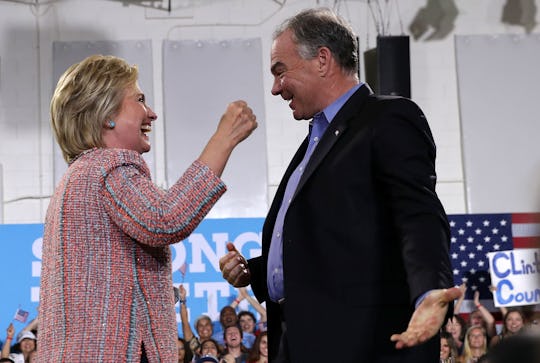 Alex Wong/Getty Images News/Getty Images
How Did Hillary Clinton & Tim Kaine Meet? The Two Are A Solid Pair
It's a big day for Hillary Clinton supporters, as the Democratic nominee finally announced who would be standing alongside her for the rest of the presidential campaign. The Associated Press broke the news Friday evening that Clinton chose Tim Kaine as her running mate, a decision that may saw coming given his experience and political leanings. Though Kaine was the frontrunner leading up to Friday's announcement, many may be wondering how did Hilary Clinton and Tim Kaine meet.
The Senator of Virginia has been in contention for the running mate position for quite some time, but he didn't become a frontrunner until earlier this month. And the selection is especially surprising since, as The Los Angeles Times reported, Kaine openly Obama over Clinton in 2007. So clearly Clinton is not one to hold a grudge. (And if she is, she sure has a funny way of showing it.) The publication additionally reported that Kaine and Obama, both Harvard Law School graduates, bonded quickly and continued to serve as support for one another. In fact, as the LA Times noted, Kaine was briefly considered to be Obama's running mate before the then presidential nominee went with aviator-wearing Joe Biden. Despite being passed up for the role Kaine continued to support Obama and, as a result, may have met Clinton while she was serving as Secretary of State.
It's possible that Kaine's support of Obama played a part in Clinton's selection of him as a running mate. According to The New York Times, Kaine has liberal leanings, which the publication noted could help Clinton appeal to the independent voters and more moderate Republicans. And, when it comes to elections, everyone knows the more people your party's candidate related to, the better.
But that's not the only reason Clinton chose Kaine to stand alongside her for a possible eight years. The 58-year-old senator has a resume that would impress any presidential candidate. According to his personal website, Kaine was elected to the Senate in 2012 after serving as the governor of Richmond, Virginia from 2006 to 2010. Prior to that, Kaine served on the Richmond City Council and practiced law for more than 15 years in the state. If that doesn't wow you, I'm not sure what will.
Of course, there's also the personality to consider. During a June appearance on Meet The Press, Kaine referred to himself as "boring," which may be an attribute in this particular election. Given the strong personalities of both the presidential candidates and Donald Trump's running mate Mike Pence, voters might find it reassuring to see someone a bit more clam, cool, and collected standing up at the podium.
Luckily, voters will be able to see Kaine in action at the upcoming Democratic National Convention and see just how well the two gel.