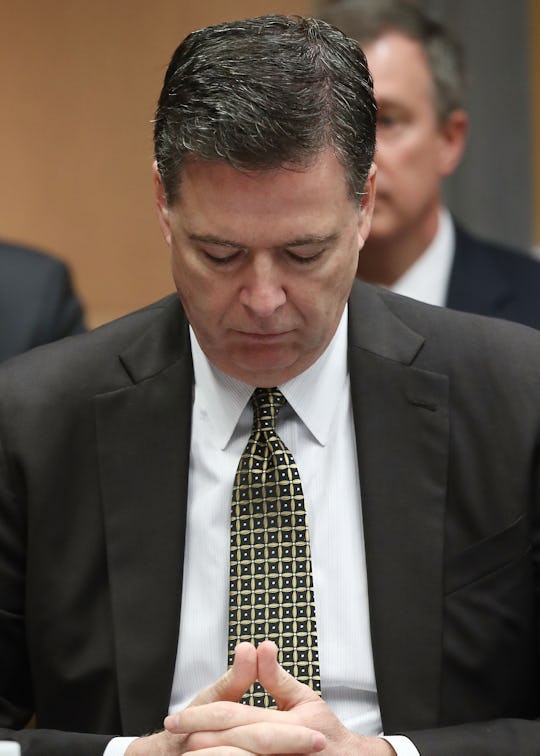 Mark Wilson/Getty Images News/Getty Images
James Comey Found Out He Was Fired From TV
Getting fired is a rotten feeling. Getting fired in public is even worse. But getting fired and finding out from the television? That takes the cake. Despite making a career out of telling people "You're fired!" it seems President Donald Trump really let the ball drop in this situation, because FBI Director James Comey found out he was fired when he saw the news on television. And he thought it was a joke.
A grim day, indeed.
Comey was reportedly speaking at an event in Los Angeles when he saw the news that he was fired flash by on a news feed. According to law officials who were present, Comey thought it was a prank initially. He even tried to make a joke of it to lighten the mood. The New York Times reported that his staff took him aside and broke the news that he had been fired by Trump. White House spokesman Sean Spicer had announced Comey's termination at his daily press briefing, citing a letter that had allegedly been delivered to Comey from Trump that read in part:
While I greatly appreciate you informing me, on three separate occasions, that I am not under investigation, I nevertheless concur with the judgment of the Department of Justice that you are not able to effectively lead the bureau. It is essential that we find new leadership for the FBI that restores public trust and confidence in its vital law enforcement mission. I wish you the best of luck in your future endeavors.
The letter was allegedly delivered to Comey's office in Washington shortly after the news broke.
Romper has reached out to the White House and the FBI for statements regarding Comey's dismissal and is awaiting a reply.
Trump noted that he had fired Comey based on the recommendations given to him by Attorney General Jeff Sessions and Deputy Attorney General Rod Rosenstein. But White House officials told CNN that Trump had been considering Comey's termination for at least a week prior. In fact, Trump took to Twitter to enjoy a little rant about Comey.
Comey announced just days before the November election that the FBI was reopening an investigation into former presidential candidate Hillary Clinton's emails, based on emails found on disgraced Congressman Anthony Weiner's laptop from Clinton's former aide, Huma Abedin. The investigation has since been closed, but not before Clinton lost the election to Trump.
While Trump may have expected Democrats to praise his dismissal of Comey, a man many have blamed for Clinton's surprise loss in November, he miscalculated. Critics have noted the eerie timing of Comey's termination; he was the lead investigator into the cyber hack of the 2016 presidential election perpetrated by Russian operatives. Comey, who had a strong history of nonpartisan law enforcement prior to 2016, was looking into the possibility that members of the Trump administration may have colluded with Russians.
Comey may have been fired because the American people had lost confidence in his ability to lead, as Trump wrote in his letter. He may have been fired because of his involvement in the Trump administration investigation.
But here is what we know for sure; after just four years in a traditional 10-year term as FBI director, Comey found out he was fired from the news. In front of a room full of people. It was an unfortunate end to what could have been an illustrious career.