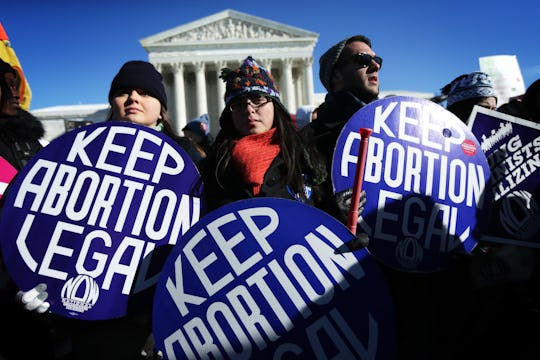 Alex Wong/Getty Images News/Getty Images
Important Roe V. Wade Figure Has Passed Away
1973's landmark "Roe v. Wade" Supreme Court decision is regarded to this day as the conclusive ruling on women's abortion rights. The focus of the court case, "Jane Roe," was actually a pseudonym for 22-year-old Norma McCorvey. So how did Norma McCorvey die? She died on Feb. 18 at 69 years old at an assisted-living facility in Katy, Texas, The Washington Post reports. Joshua Prager, a writer currently working on a book about the case, also shared that McCorvey died of a heart ailment. Before Saturday, it was reported that McCorvey was suffering from a case of pneumonia.
McCorvey became an abortion rights icon after her hard-fought court case resulted in a 7-2 Supreme Court ruling, ultimately insisting that banning abortion is an unconstitutional move, nationwide. At the time, McCorvey had argued that "she could not afford to travel out of state and had a right to terminate her pregnancy in a safe medical environment." She also reportedly shared that she was suffering from both addiction and poverty.
The "Wade" to McCorvey's "Roe" refers to the district attorney of Dallas County Henry Wade, who served from 1951 to 1987. Prior to the case, Wade had "enforced a Texas law that prohibited abortion, except to save a woman's life," CNN explains.
By the time the actual ruling took place and a final decision was made, McCorvey's 2-year-old child was up for adoption. This was her third child, so she never actually had an abortion of her own. Whereas McCorvey was seen by many as the key symbol of the pro-choice movement that sealed its victory, she revealed later in her life that this was no longer her personal or political view. Ultimately, McCorvey joined the pro-life movement and became a follower of Christianity, fervently speaking out against abortion rights. Her life's mission became "serving the Lord and helping women save babies."
McCorvey's death comes at a time when women's rights are being threatened by President Donald Trump's administration and policies. This danger to women's health and safety has precipitated a resurgence of protests, such as the recent Women's March on Washington and the upcoming "Day Without a Woman" strike. Despite sweeping improvements in abortion safety and overall declining rates of abortion nationwide, the conversation is not yet done. Until now, many thought that the Roe v. Wade ruling was the final chapter in a closed book. It seems, though, that this fight may not be over.