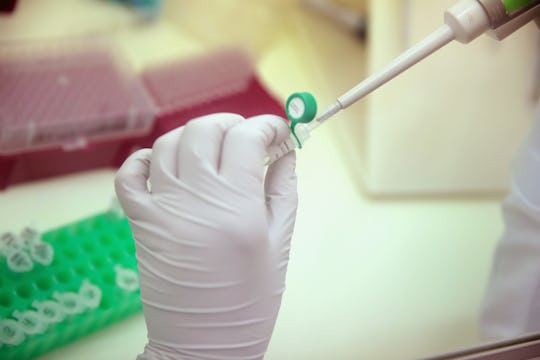 Scott Olson/Getty Images News/Getty Images
How Do They Test The Zika Vaccine? It's Already Advanced To Human Trials
After months of fighting the Zika virus, it seems like there's finally some good news on the horizon. A new vaccine is being developed by Inovio Pharmaceuticals and it reportedly contains a synthetic DNA fragment similar to the virus itself. Inovio Pharmaceuticals is hoping its new vaccine will establish immune protection against the virus that has affected so many people already. The Zika vaccine is currently being tested and has already advanced to human trials. It's being given to 160 people in Puerto Rico to see if it can prevent the harrowing damage that can be done by Zika.
The study to discover a new Zika vaccine has identified two existing drugs that may be able to protect human brain cells from the damaging effects of the disease. Inovio Pharmaceuticals discovered the potential benefits of these existing drugs during an analysis of drugs that are used to treat other afflictions. Zika causes severe brain damage in new born babies because the virus attacks cells that create neurons in the brain, preventing them from functioning correctly. A drug that protects brain cells from damage, discovered in a clinical trial for liver diseases, combined with a drug that stops ZIka from replicating has the potential to be an effective Zika treatment. This study, while promising, has not yet begun animal testing.
Inovio Pharmaceuticals isn't the only company taking important steps forward in the search for a Zika vaccine. Takeda Pharmaceutical Company is a Japanese drugmaker that announced on Thursday it's also working on developing a vaccine to fight Zika. Takeda has experience fighting mosquito borne illnesses such as dengue, which hopefully help researchers in their pursuit of a reliable immunization. The Japanese drugmaker has received funding from the U.S. Biomedical Advanced Research and Development Authority (BARDA), which is part of the U.S. Department of Health and Human Services.
Takeda will initially receive $20 million over an 18 month period to fund pre-clinical studies before they advance to human trials, however, they will need much more money if their clinical trials advance. If the pre-clinical trials continue to be successful, Takeda will need $312 million in funding. Takeda hopes to begin testing their developing vaccine on human volunteers in 2017.
These advances are definitely exciting, but there are still hurdles facing those working to prevent the spread of Zika. The Centers for Disease Control and Prevention (CDC) announced it was almost out of money to fight Zika on Tuesday. Dr. Tom Freiden, Director of the CDC, told reporters that the national health agency is desperate need of financial aid from congress. President Obama requested $1.9 billion from Congress to be given to the CDC to help fight Zika last February, however, Congress has not approved the federal funding. After working against Zika in Peurto Rico and Florida, the CDC is running out of money to continue its own work.
The fight against Zika Virus is still on going. It's great to hear about the promising steps being made to develop a successful vaccine, however, realistically they won't be available for some time. In the meantime, it's important to stay vigilant to protect yourself from contracting the virus. The CDC put together a comprehensive guide to preventing Zika even without a vaccine.
Let's all keep our fingers crossed the world will have a brand new Zika Vaccine as soon as possible. Don't forget the bug spray, though, while we wait.